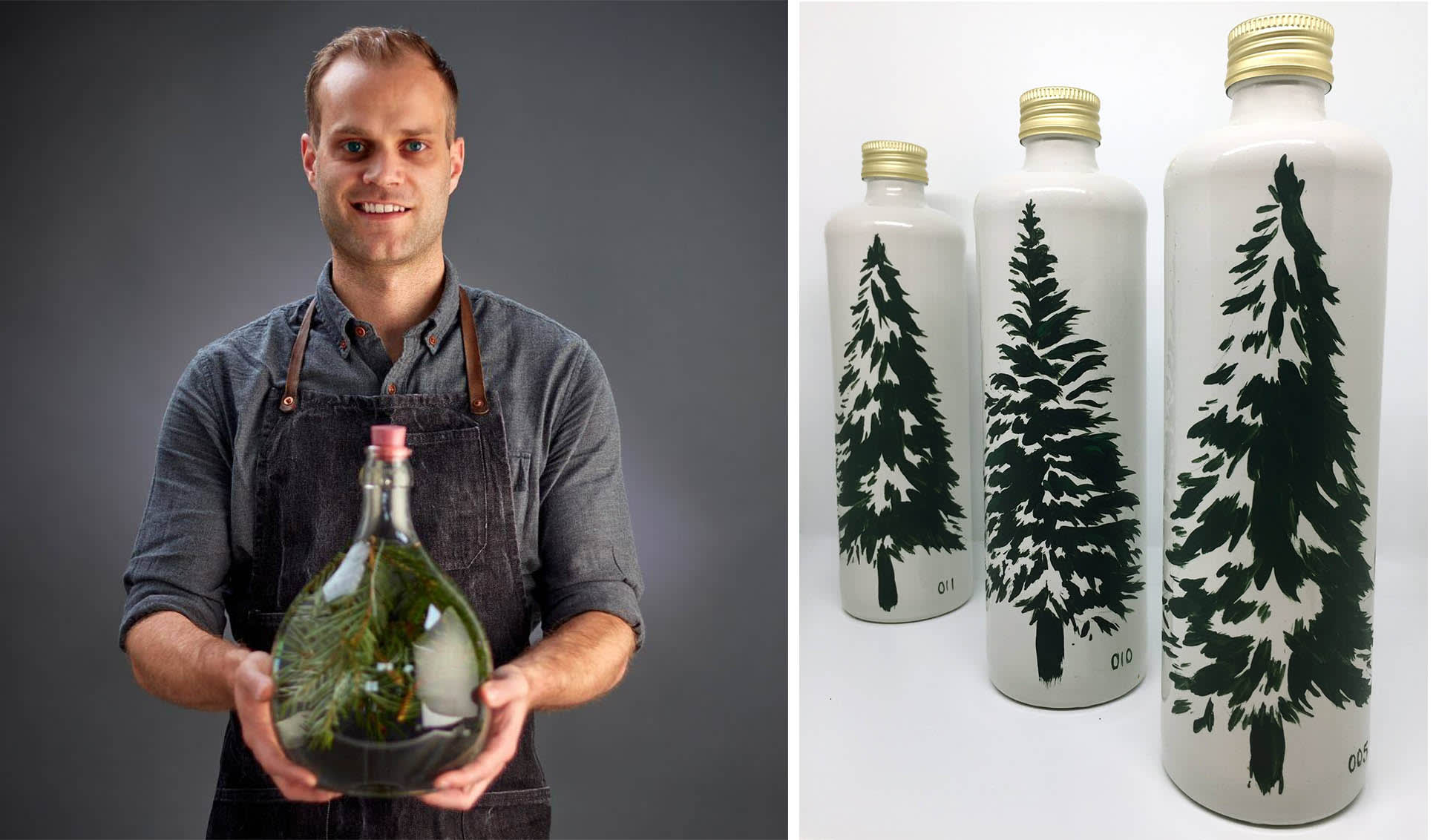 I love Christmas inspired gins. I've even made a few over the years as which were served up in the Ginvent calendars. I've distilled Christmas trees, melted chocolate into spirit, infused puddings and reduced cranberry sauce in search of festive flavours. Christmassy gins can be clever, they can complex, often a bit indulgent, a little bit gimmicky and more than anything - they are supposed to be fun.
Sloe & Damson Gin
When you think of gin and the festive season, or even just winter, the first thing that pops into most people's mind is Sloe Gin.
The traditional hedgerow flavours that burst on the nose and that sweet finish make me drool just reminiscing. It's easy to sip neat, lovely to bring on those long walks, sneak a dram of while watching the match, or even to add to a mulled recipe with cloudy apple juice – the list for why this subcategory of Gin is a staple of so many households can go on and on. 
It may be a little late now, but if you are looking to make some at home from frozen berries, check out this handy guide here. For those just looking for something they can dive into however, you've come at the right time as there are many good bottlings from mainstream brands that are readily available. 
Sipsmith, Plymouth and Adnams have classic Sloe Gins that please all, while Hayman's also have a second offering in addition to their flagship, the Spiced Sloe Gin, that adds a little extra spice in the mix. Meanwhile, Irish makers Boatyard have a delicious drop, while it's hard to go wrong with Hepple's version given the calibre of the underlying gin.
It's not just the big boys or established distilleries that produce them, nor is Sloe a genre of the past either. One of the highlight new offerings this year is Papillon's Sloe Gin, which is well worth seeking out. 
Equally, there are dozens of Sloe-like offerings that are being unveiled across the world. The one that caught my attention this year was from the Japanese makers Kyoto Distillery. Named Ki No Bai, theirs is a plum and berry liqueur that aims to fuse British Sloe Gin and Japanese plum wine. To do so, they use local Japanese ingredients such as Haskap berry from Hokkaido and the rare Joshuhaku plum from Kyoto. It's an interesting twist on the genre and ideal for those who are looking for something a bit unusual.
With all that said, in my opinion the grandmasters of Sloe Gin are still Bramley & Gage (the makers behind 6 O'Clock Gin). They have a regular Sloe Gin which is tasty but they also have another, the 5 Year Old Aged Sloe Gin where the berries have been aged for 5 years. The additional time has allowed a new marriage of fruit and gin flavours to develop, with oxidisation and prolonged contact between the fruit and the spirit resulting in a sensational spirit that's more like sipping on a vintage port. It's quite incredible. 
Another great expression is Chase's Oak Aged Sloe Gin. It combines the traditional Sloe Gin profile but adds a layer of complexity on the finish through the way that it's been matured a little longer in oak barrels. Also, by adding mulberries as they macerate the sloes, they ensure that ripe red fruit note really pops. This dual augmentation transforms what would be an ordinary Sloe Gin into something that stand out from the crowd.
Festively themed gins
Traditional sloe and damson offerings aside, gin is now a wondrous place filled with the extraordinary, the innovative and the absurd which push the boundaries of both the category and, well, taste in general. I'll begin from the centre and work outwards towards the fringes of both seasonal flavours and outright silly ideas. 
Let's kick off with a duo that are instantly recognisable as gin, yet identifiably Christmassy.
Edinburgh Gin Christmas Gin uses nutmeg and ginger root to build a warming and spiced base and add the heady aromatics of frankincense and myrrh while keeping the juniper bold and omnipresent. It's London Dry Gin, but that lands with a jingle when poured into a glass. 
South of the border, Cotswolds Distillery make a Cloudy Christmas Gin. Again, it's more of a classic gin with a seasonal twist compared to the full-blown flavoured gins you can get nowadays. It brings in botanicals like spiced cardamom and zesty clementines into the mix with great effect.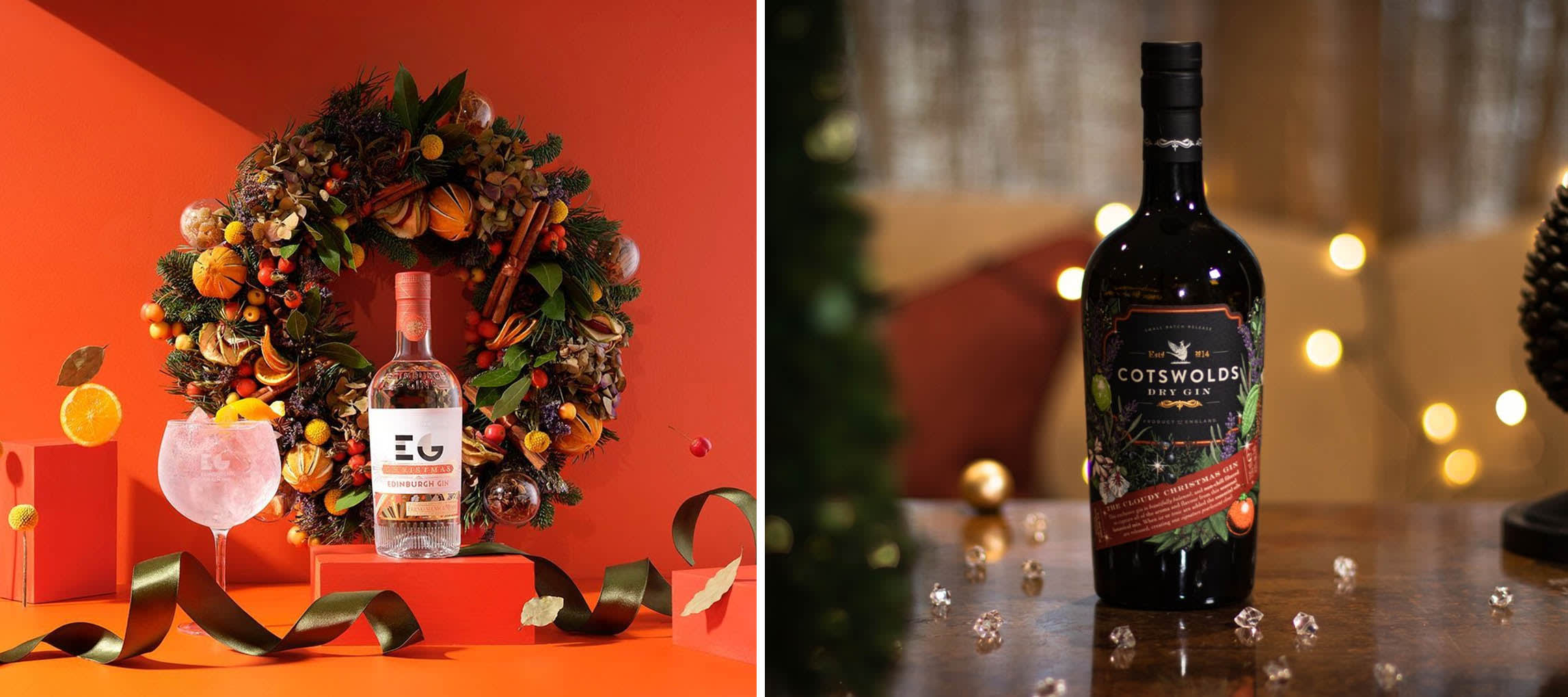 Let's take a step further now…
The creative mavericks That Boutiquey Gin Company make a Yuletide Gin. Their combination of traditionally festive botanicals (cinnamon, nutmeg, raisins, cloves, clementine, allspice, Christmas Tree needles and more), as well as ingredients that are quintessentially festive but not traditionally used as botanicals (Christmas cake, charred oak, chestnuts, Christmas puddings, chocolate truffles, mince pies, gingerbread and more) is what makes this one weird, but wonderful too. It may seem flippant due to the strange ingredients used and the floating edible gold flakes in the bottle – but the gin's respectably juniper centric, has good depth of flavour and would please many a London Dry enthusiast. 
Okay, time for another step out towards the fringe and into the unconventional "seasonally flavoured" gins…
Four Pillars and Sacred Gin have long been making their famous Christmas Pudding gins. They are brilliant and in their own ways, pioneering. Others who have joined them since are the likes of Warner's, who have re-released their Christmas Cake Gin this year. It not only looks the par – but promises plenty of rich, syrupy and festively spiced fun. It's filled with hand-picked sloe berries, cherry juice, black treacle and dark chocolate – so expect a decadent treat.
Tappers Gin and Tarquin's also both have Figgy Pudding Gins, while Chiltern based Campfire Distillery have released a 2021 batch of their Pud Pud Gin too. I agree that Christmas pudding / cake gin sounds silly at first, but if you think about it you'll find that most of the flavours that make Christmas puddings delicious are all quite commonly used botanicals in gin.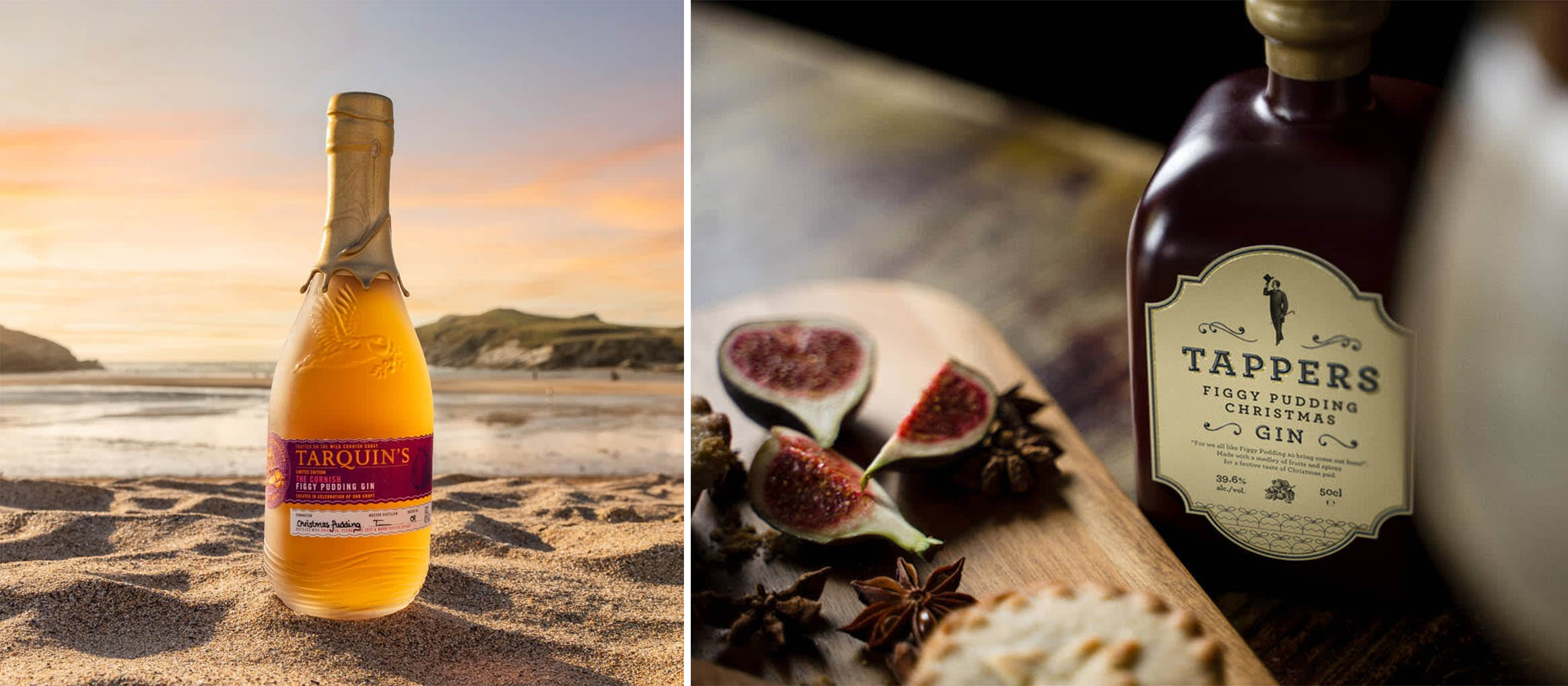 The success (and fundamental issue) with these releases comes down to their execution and how they are balanced alongside gin's main ingredient, juniper. From my experience, most make nice gins as the makers are aware of needing to make a juniper (pine) forward spirit, but in doing so they make weird iterations of Christmas puddings. 
This leaves most drinkers in a quagmire. They are tasty but not really user-friendly gins (as many are dry and high abv) and if you are after liquid desert like flavours, it's not that either. It's hard to finish an entire bottle. 
Now onto the outlandish!
If all of these sounds too ordinary and what you think when the word Christmas comes up is how you'll go about dodging spouts - then here's a concept that shouldn't work, sounds daft, and yet tastes great. Brussels Sprout Gin from Pickering's is flippant as a concept, and I'm still surprised to be saying this - well made and actually quite "ginny". It smells of raw sprouts, while it tastes of gin with juniper and citrus pushing through quite well.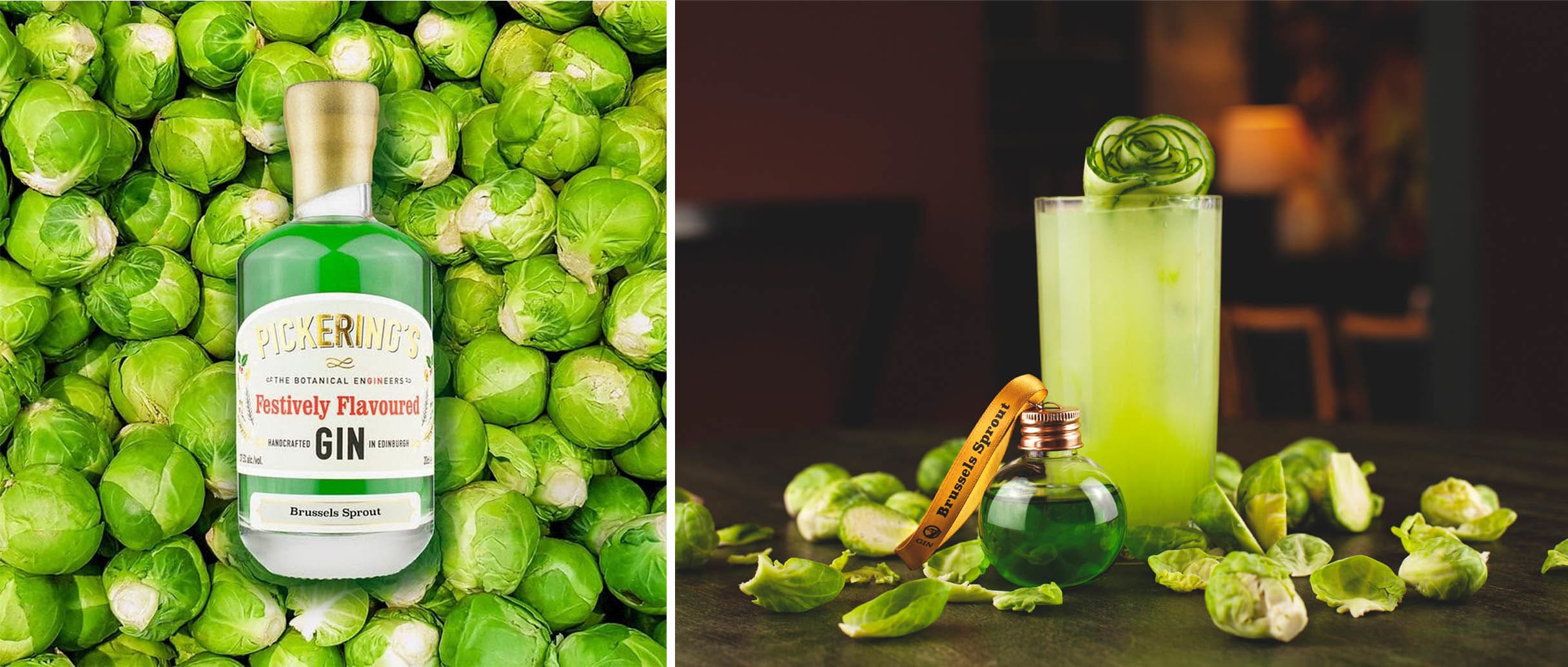 What about those cream liqueurs? Yes, gin versions exist too. Try the Carthy & Black range that blends silky cream with Slingsby Gin alongside a multitude of flavoured expressions. 
Last but not least –  and I'll point out that it's not quite a gin as it's a liqueur before you all kick off - Clementine Snow Globe Gin is the only thing that's obsessed national newspapers since September. 
So, if you're thinking that you need gin but also want it to light up like the Christmas Tree itself, play music and act like a snow globe on the mantel piece – look no further because M&S read your mind. Maybe also go and speak to someone too, as it's a weird train of thought…
Gimmicky or not, the fact is that M&S cannot make enough of it as it sells out so fast. So much so, both Morrisons and Aldi have launched copycat versions. It's a liqueur at 20% ABV so it's never going to deliver what a gin purist wants, but it's quite decent to taste. Combine that with the fun look and easy-to-make recipes that are recommended alongside, it can make for a fun talking point when everyone comes round.
That's the reality of the gin category in 2021 - historical genres like in Sloe Gin or London Dry do alright, modern flavoured gins are performing better, but so much of what's on shelf (especially at this time of year) are liqueurs aimed at the fun end of the market. When it also lights up, glitters, plays a jingle and is adorned with decorations… you must be a serious humbug to completely dismiss it out of hand. 
All in all, there's a massive amount of choice when it comes to festively themed gin to keep you in good spirit this Christmas!