Gin lovers are a broad gathering of enthusiasts. The fact that it so inclusive is why I love it so much.
If you try and split gin enthusiasts into defined tribes based on their preferences, you realise just how much variety gin has to offer. 
There are those who like the classic junipery pine notes in their G&T, sticking with the big brands they feel familiar with. There are others who venture into other cocktails like Negronis and Martinis and love discovering the latest release and stumbling over lesser-known craft producers.
There are collectors. There are connoisseurs who navigate with discerning tastes and there are first timers approaching the complex category for the first time. Some care about process, some don't. 
Some place a value on where it's made or who makes it – others insist it's all about flavour and price point. Equally, there's thousands who flock to gin for the flavoured kaleidoscope of fun that Flavoured Gin delivers.
They are loose tribes too – most gin drinkers migrate from one camp to the other at some point. This journey of ever-changing tastes forces an ever-changing landscape and makes Gin so special. 
But with so much width to pick from, buying something suitable for as a Christmas gift can be tricky. I've broken down a few areas for those on the hunt and hope you find a spark of inspiration. 
Citrus Forward Gins
Citrussy gins have shot up the popularity list and in 2022, it's clear that they have the attention of both Flavoured Gin lovers and classic London Dry enthusiasts alike. 
If you are buying a gift for someone whose preferences you don't know well – chances are this is a good place to start.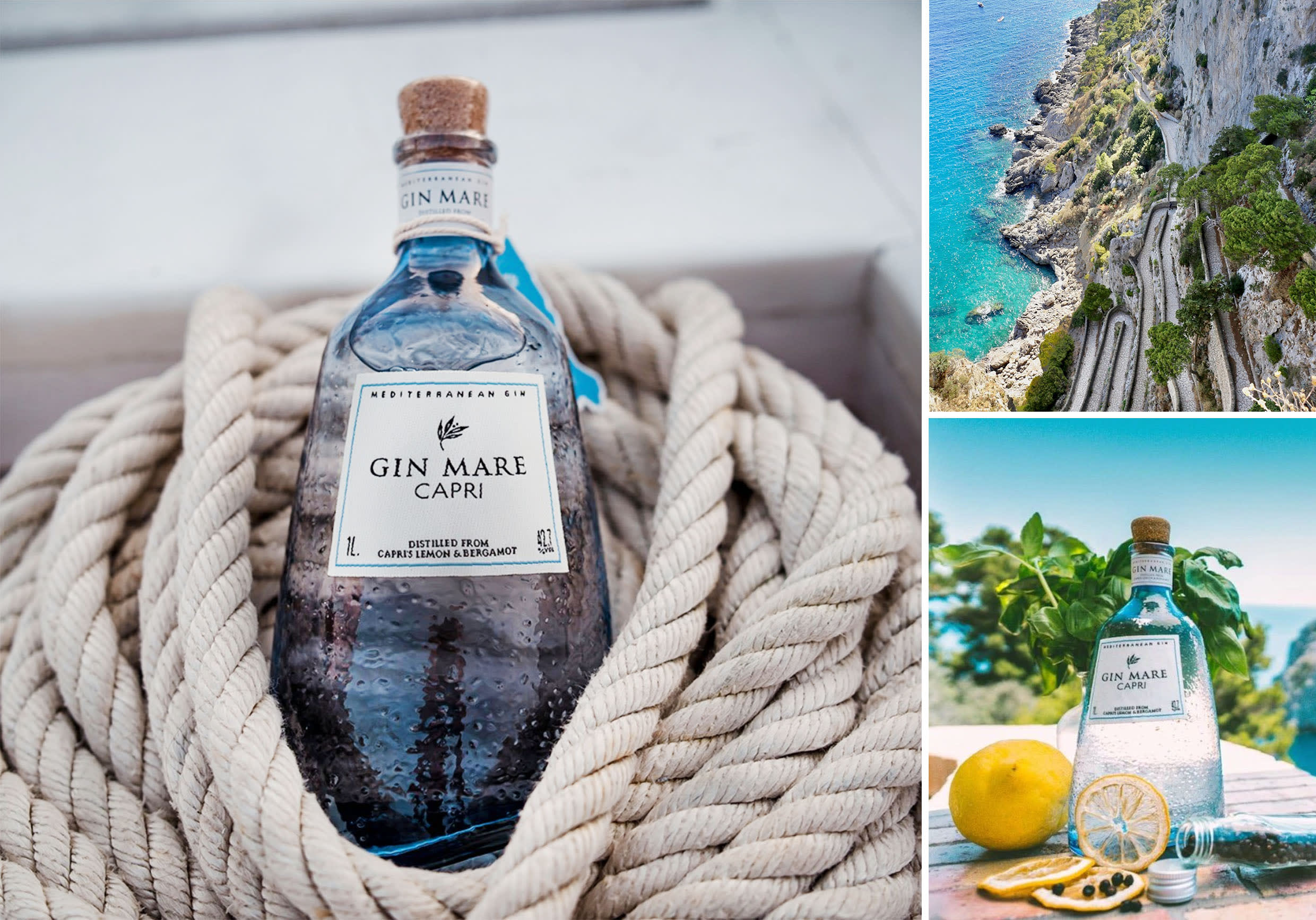 Gin Mare Capri is the kind of gin bottle that has WOW impact. It's a beautiful bottle in its texture and aesthetic, the kind to make you hurry unwrapping the rest of the paper to get to it. Thankfully the gin inside is delicious too. 
The Capri edition combines Gin Mare's usual herbal, Mediterranean flavours and adds Italian bergamot from Calabria and lemons from Capri. That addition delivers a layer of freshly zested oil that seems to dance on-top of a distinctly herbal, olive and thyme profile.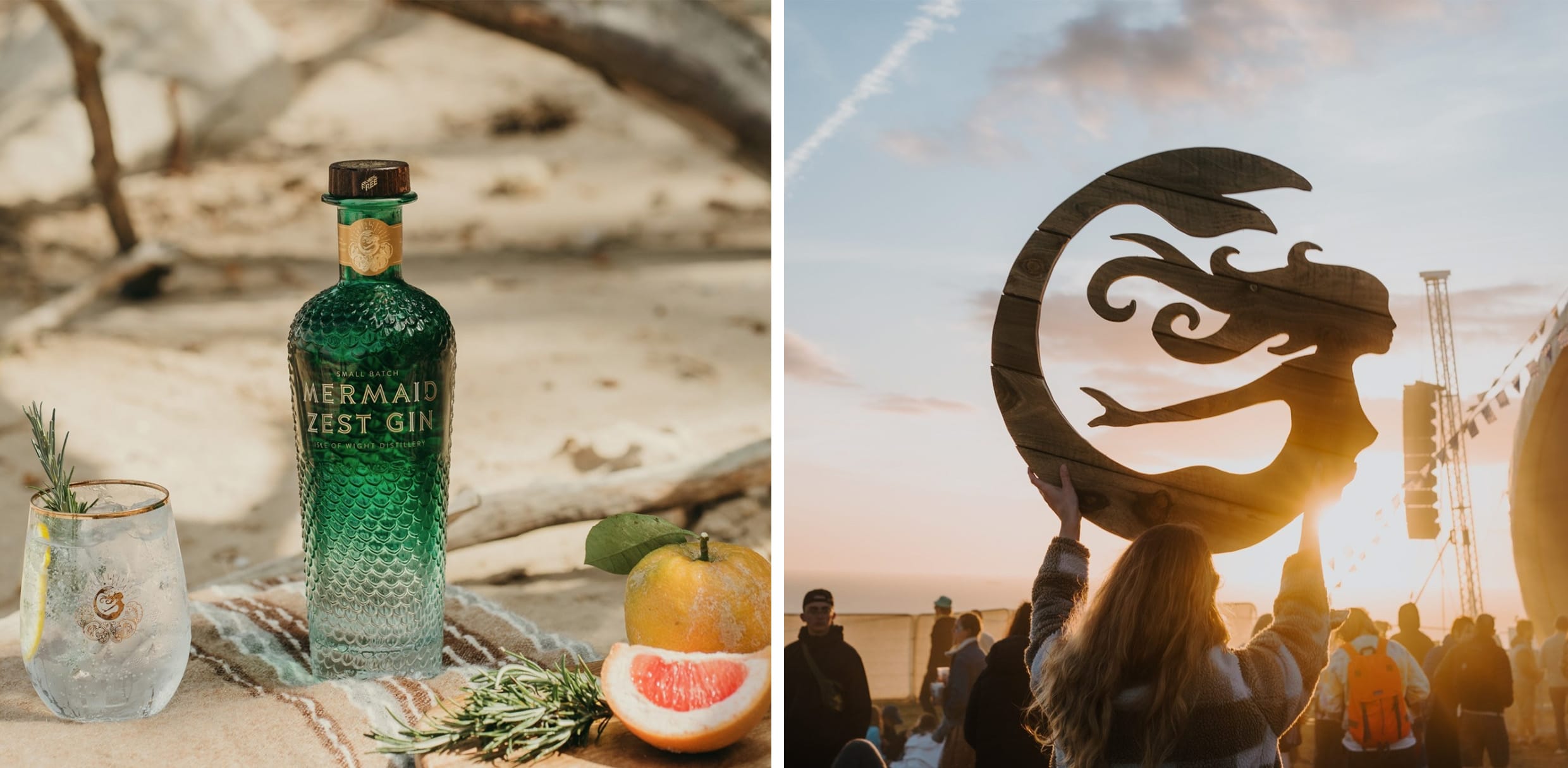 Meanwhile, Mermaid Zest remains hot on people's lips ever since it was launched in June. Yes, it's in THAT bottle, but it also delivers what it set out to do with big sherbet like lemon, bergamot and candied citrus all up in your senses. 
I'll confess to have always struggled with their Dry Gin. It's well made, it's a great gin and Iove the brand, but it really isn't a flavour profile that i enjoy. The Zest is very different in identity and so if you weren't convinced about the flagship, suspend your disbelief for a second and give it a try as I'm sure it'll impress.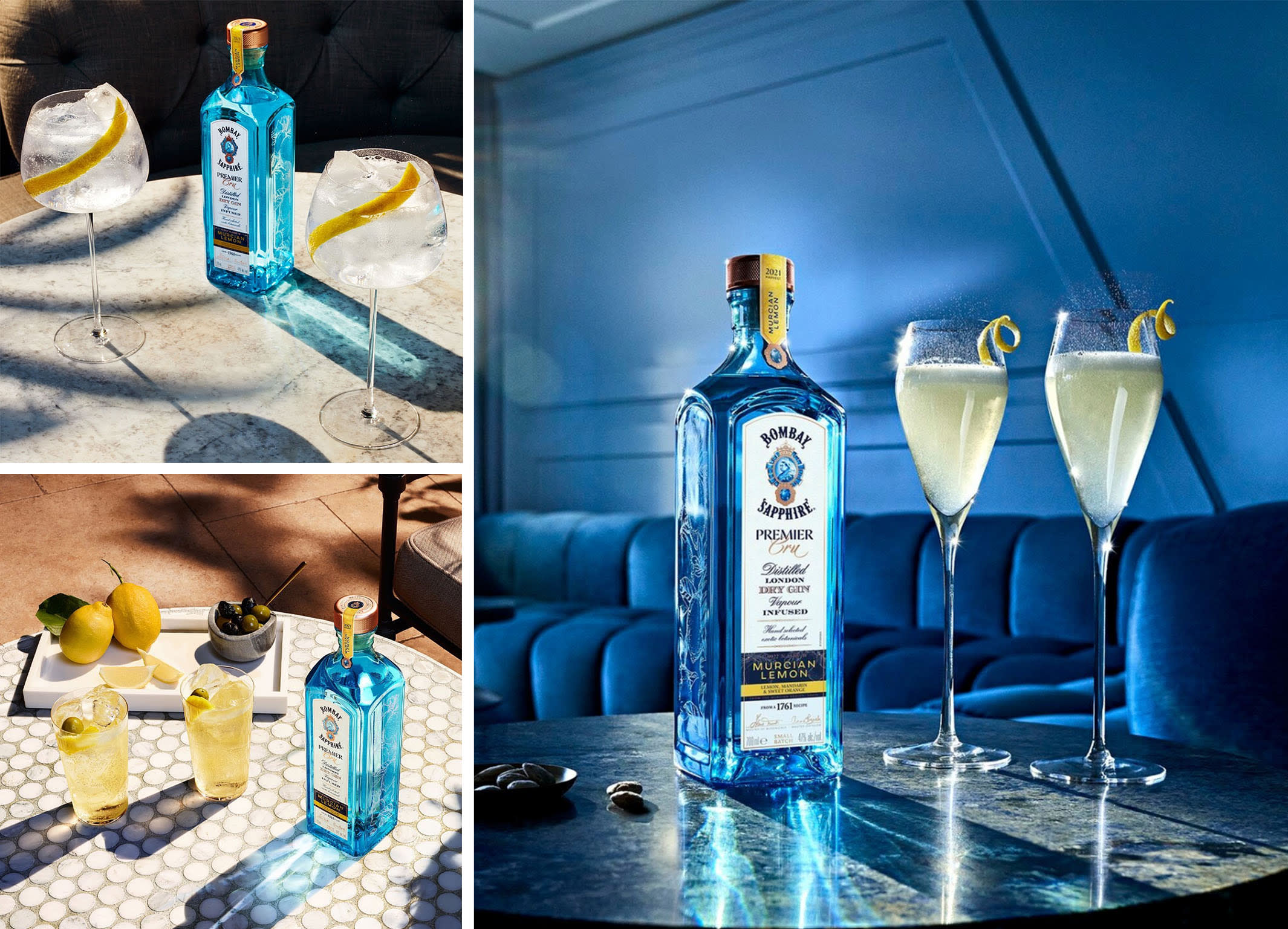 One of the unsung heroes of this year is Bombay's Premier Cru. The brand's Lemon Pressé may have got the lavish PR, big release and mainstream attention (the colour, price point and availability will see to that), but it's an average product even if you like citrus forward profiles. 
Compare that to their Premier Cru which is a gin lover's dream and easily one of the best British releases of last year. The contrast couldn't be starker and I'd urge you to forgo new in favour of quality. It's higher in ABV and that carries all the flavour in a G&T - expect bright mandarin, orange and lemon, big sappy juniper and onto the spiced finish. It's a brilliant piece of gin making, no gimmicks, no compromises and something I've personally bought twice to give to family, which is as good an endorsement as I can give. 
Something out of the ordinary – 
I've been watching the team at John Robert's Botanic Request since their launch and think they remain one of the most exciting micro gin makers in the UK.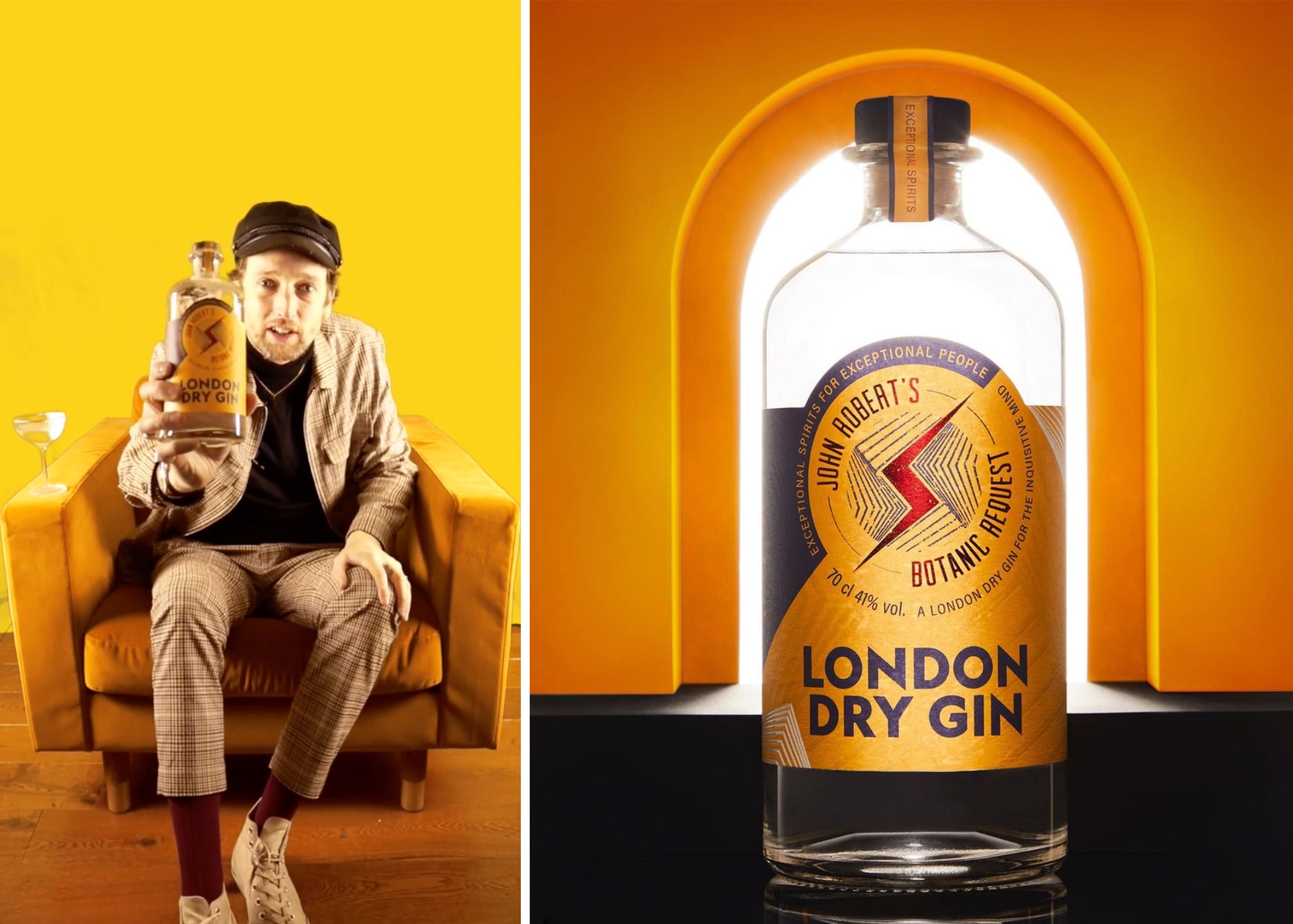 The reason is simple, the brand and those behind it are adventurous and different. The partnerships, the comms, the look, the overall feel of the brand all has a memorable identity. There's a vibe to it. It's a bit weird (or exceptional, as they put it) and I like that – it's not the usual cookie cutter boring "we're local etc" approach that so many regional start-ups have tried. It's a breath of fresh air and an original voice in a crowded space. 
The gin is great too – lots of piny juniper with tea, anise and cardamom to back it.
New international arrivals in the UK 
New arrivals in the UK that are worth discovering have been fewer this year than ever before. Simply put, many are not looking at the UK as a prime 'market' anymore. 
That said, if you are buying for a collector that has everything under the sun and you really want something they are unlikely to have had before – looking for bottles that are fresh off the docks is a good place to hunt for something unique.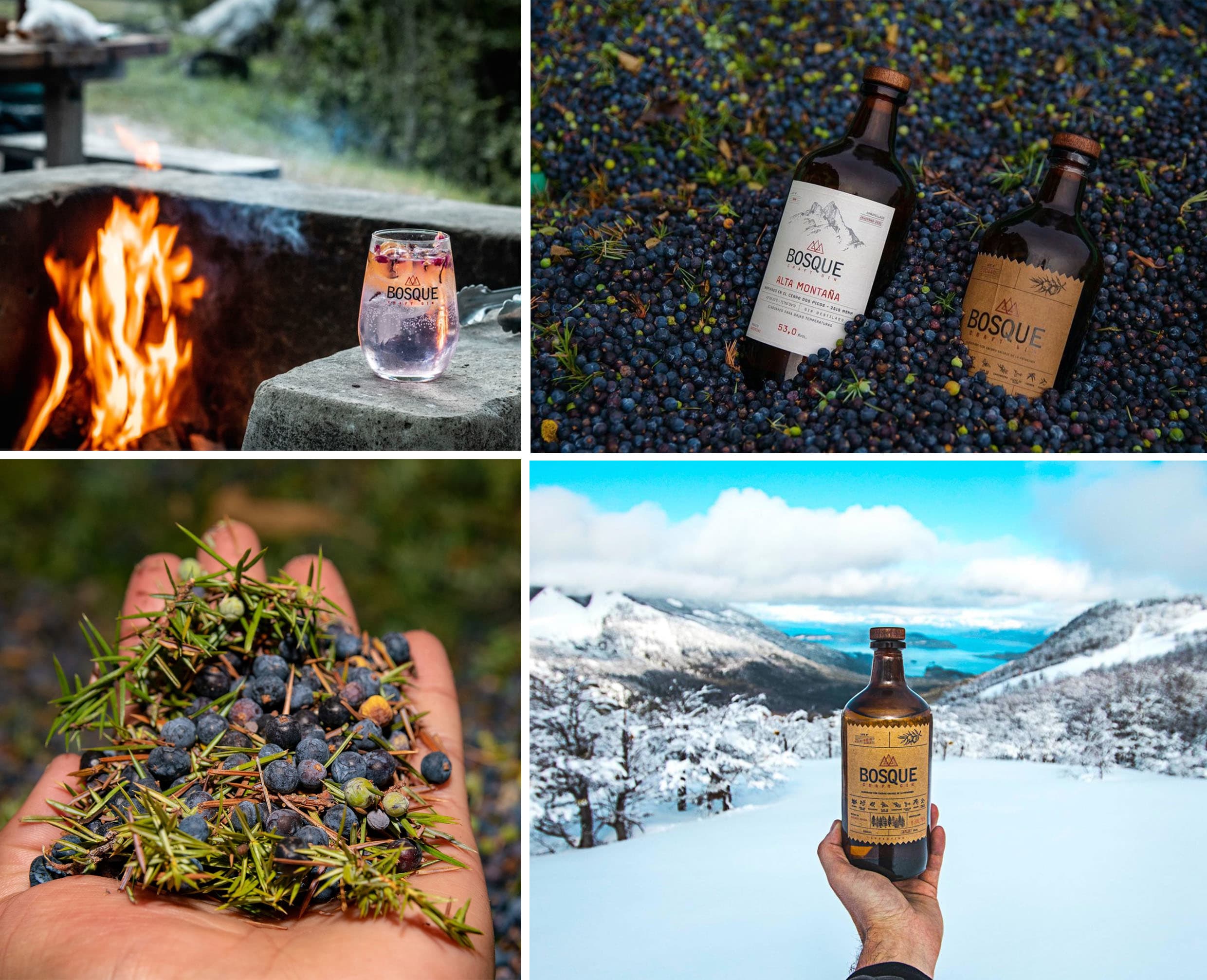 My advice is to pick Bosque Gin. They are a cool brand (B Corp registered too), the gin is great and the bottles are dinky. As a gin it is an homage to Patagonia – its wild landscapes, stories and people. They use wild juniper from Patagonia alongside classic botanicals and plenty of orange blossom, lemon verbena and citrus giving it an inviting profile. 
Their higher ABV Alta offering (they have two) is a gin that I've returned to a few times for its big juniper dose, each time discovering something different, but both have a certain charm to them that'll make you smile.
They suit Martini lovers more than G&T enthusiasts as it can get a little lost with tonic if you're not careful, but it more than makes up for that in the nuance it brings to cocktails like Aviation's, White Negroni's, French 75's and more. 
Great on shelf and in glass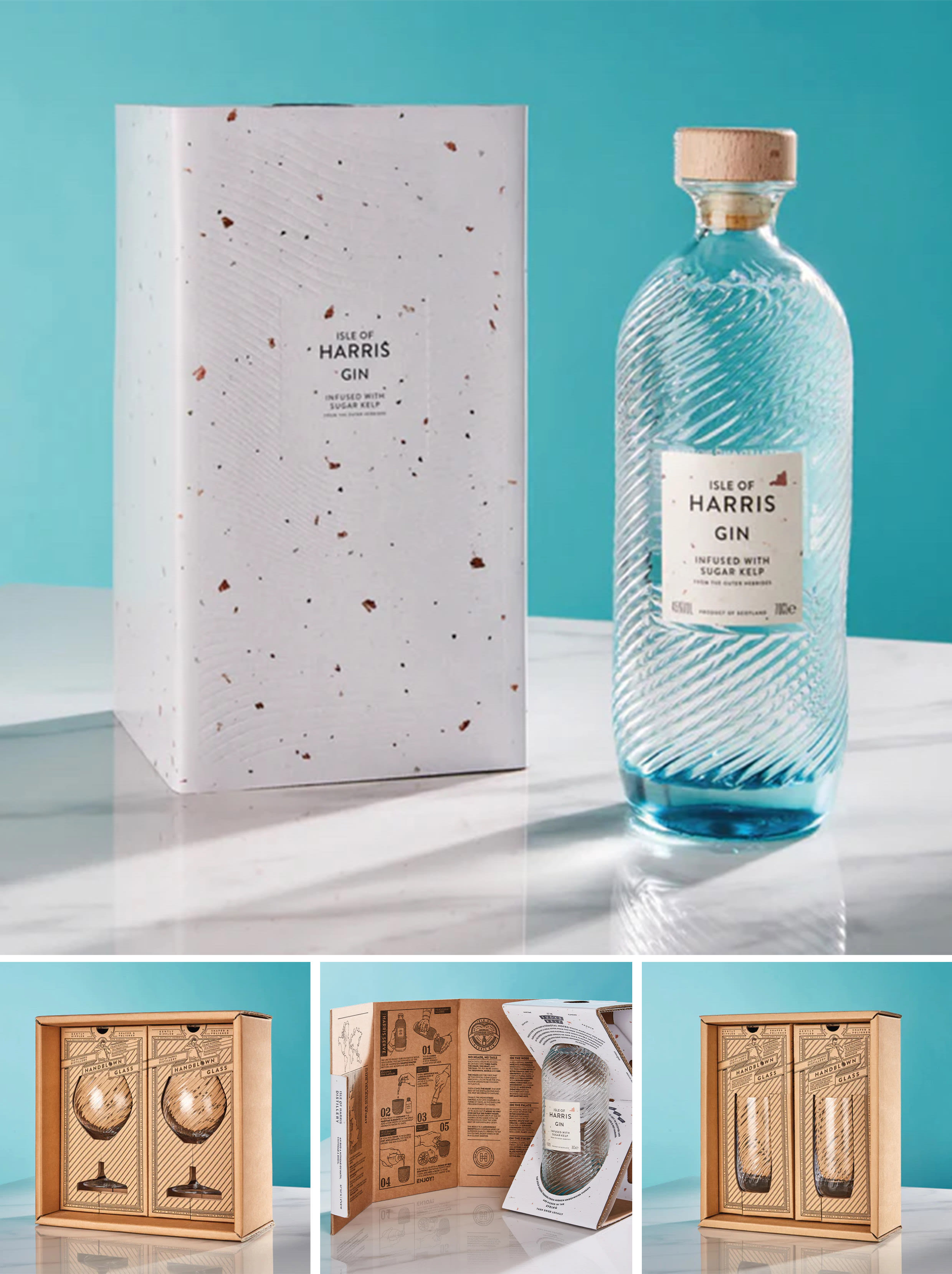 For as much as people are desperate to write or recommend something other than Isle of Harris Gin as it's been a fixture in most guides of the past five years – it remains one of the absolute best gifting options. The gin tastes nice, the glassware gift boxes are amazing, while the way it's packed and the way it comes straight from the distillery (with all they are doing for the local economy there) is something we should all endorse. It's brilliant work all round. 
Try the bottle and two glasses gift set for a really special present to put under the tree. 
The Hendrick's Hotel is an unusual gift that makes quite a statement, but one I quite like. Namely, as my daughter would love the drawings and using the pack once the "grownups" have enjoyed the contents. 
Meanwhile, Gin 44's blue gift box is visually eye-catching and sure to impress, while the fluo red nature of Electric Spirit Co's Achroos Gin is as vivid to look at as it is to taste (and one of the great Scottish Gins out there).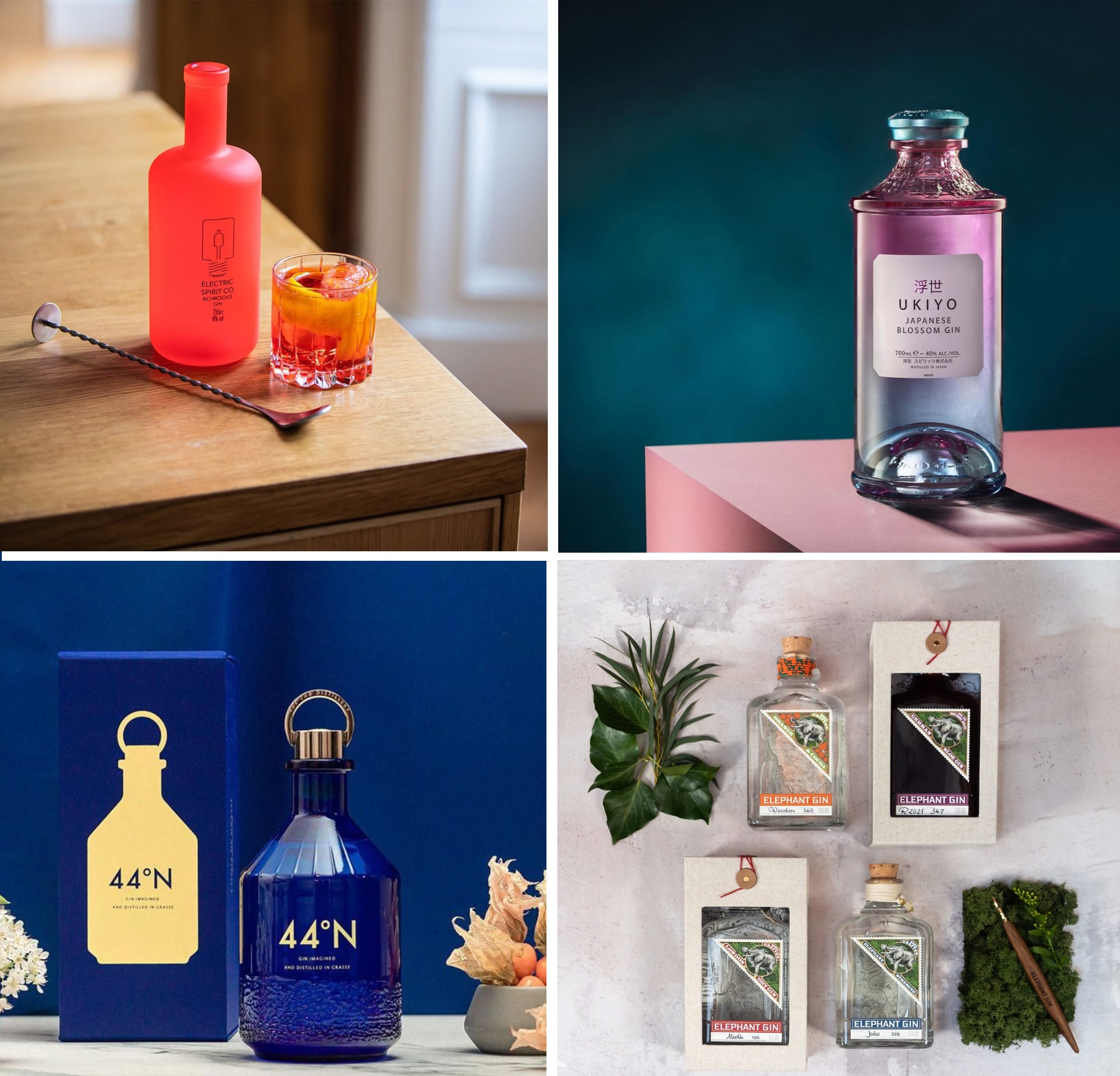 If you are in search of something a little exotic, both the Japanese offerings Ukiyo and Etsu are trending and may offer a discerning recipient with something beyond the usual. 
My vote on a classy gift goes to Elephant Gin, who are the grandmasters of the personalised touch (with or without box). It'll be a gift that matches conservation ethics with phenomenal gin and a guaranteed way to impress. 
North Uist Distillery have rebranded their Downpour Gin and it looks fantastic. Bottle aside, theirs is a story of island provenance and capturing a sense of the Outer Hebrides, both as a location and the humble & hard-working nature of the islanders who live there. You feel the owner's personal touch and contained in the blue embossed bottle is a gin that clouds in your glass once it meets ice and tonic. The flavours it carries are filled with citrus, spice and blossoms of wild Hebridean heather – lovely to say the least.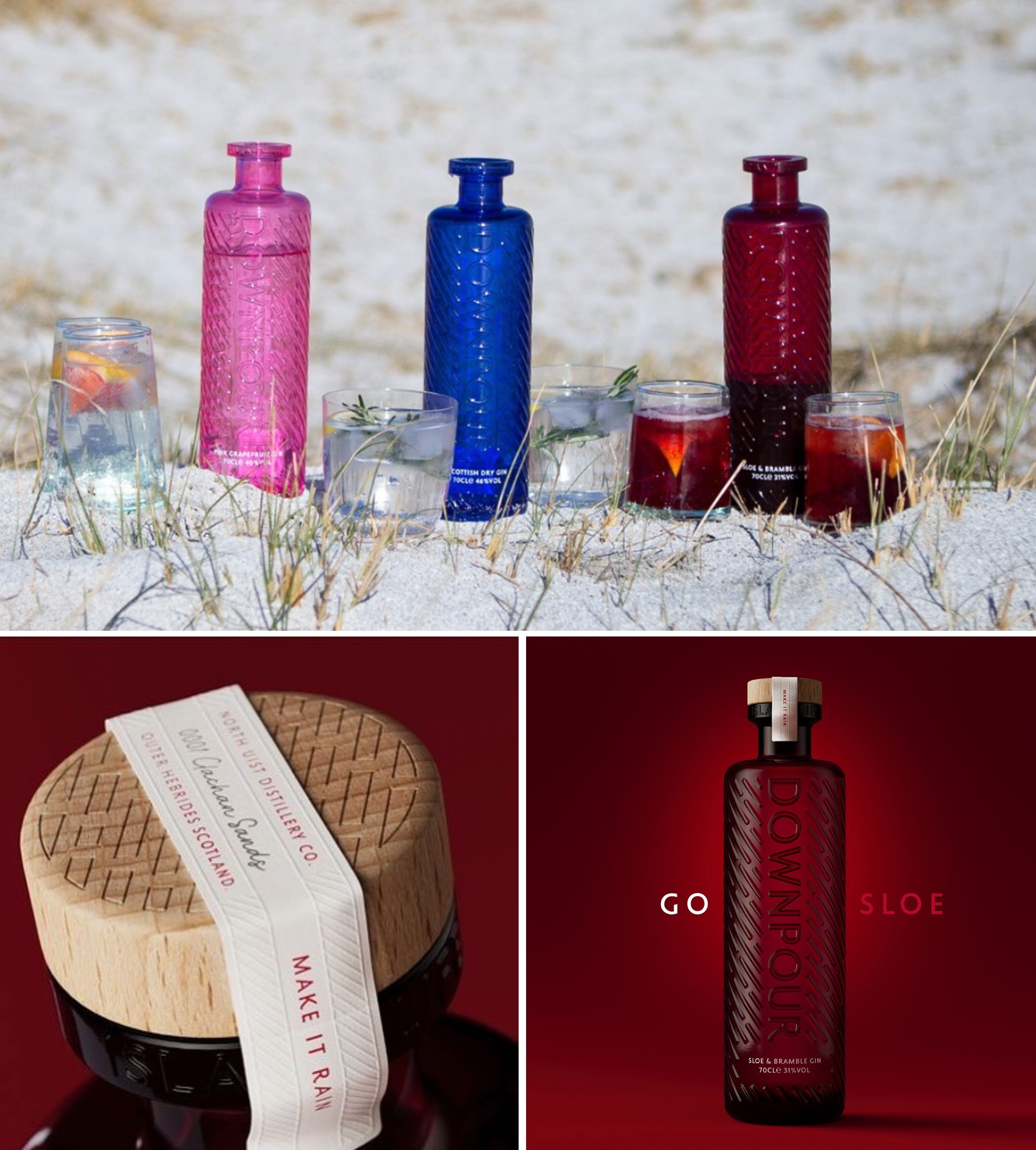 Festive Gins
Spare yourselves the glitter ball, snow globe gin liqueur. Yes, it was a sensation last year but let's leave it at that… Please?
There are so many festive gins to discover from overtly indulgent 'pudding' themed ideas, to lighter takes on seasonal flavours. Let's start with the former.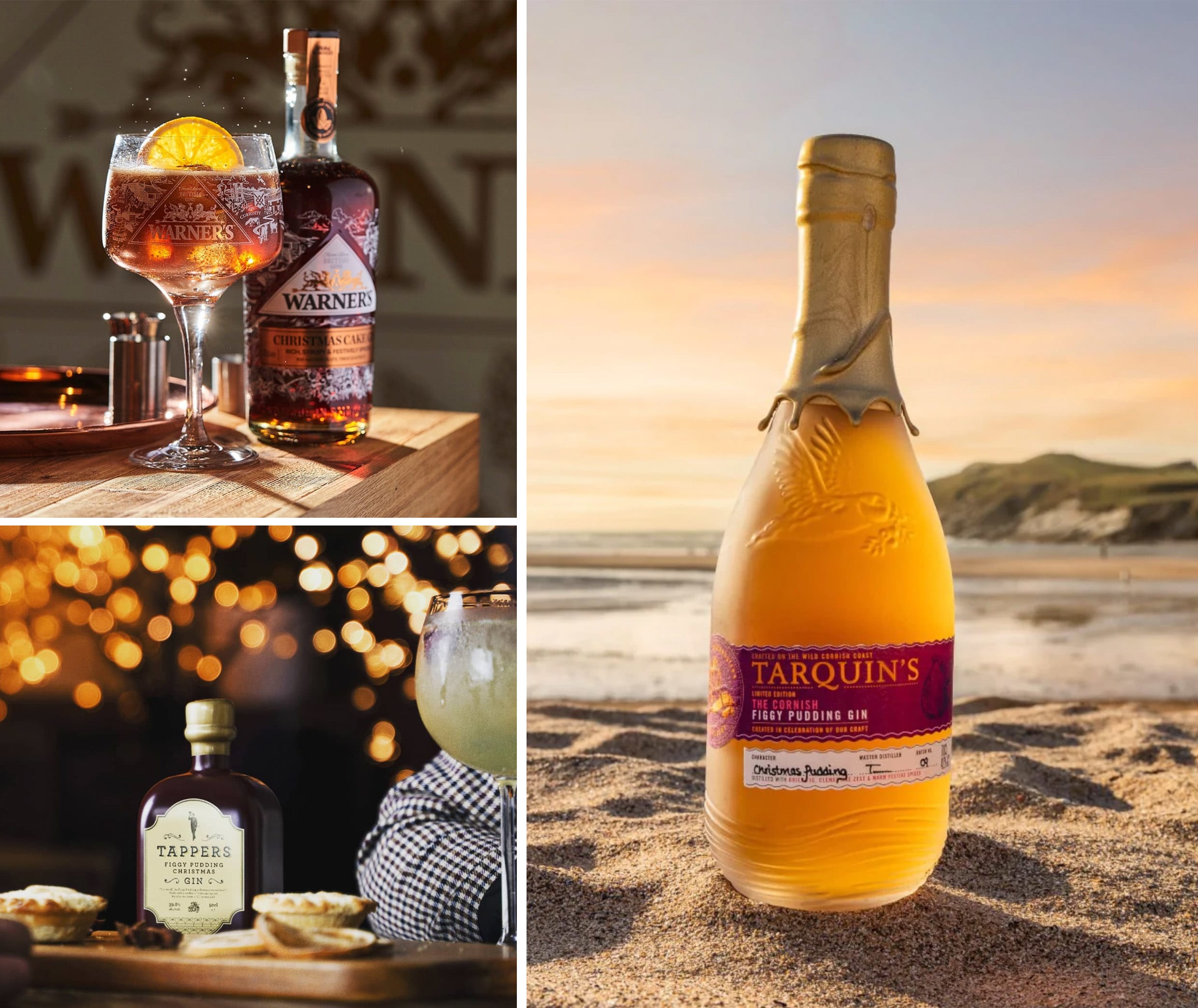 Tarquin's, Tappers and Warner's each have a Christmas Pudding Gin. They all riff off the same vein combining dried fruits, honeyed figs and warming spice. With Mediterranean tonic they really do bring a yuletide feel, yet my favourite way to enjoy them is straight over ice. 
By contrast, Cotswolds and Sibling have both gone for another approach to seasonal gin making, working off the likes clementines and autumnal fruits. 
While Cotswolds Christmas Gin captures zesty clementine and cardamon into a Dry Gin, Sibling make theirs by infusing whole cranberries and hand zested clementines into a specially made gin post distillation, giving it a crisp berry flavour with hints of cherry and blueberry and a lovely colour to boot.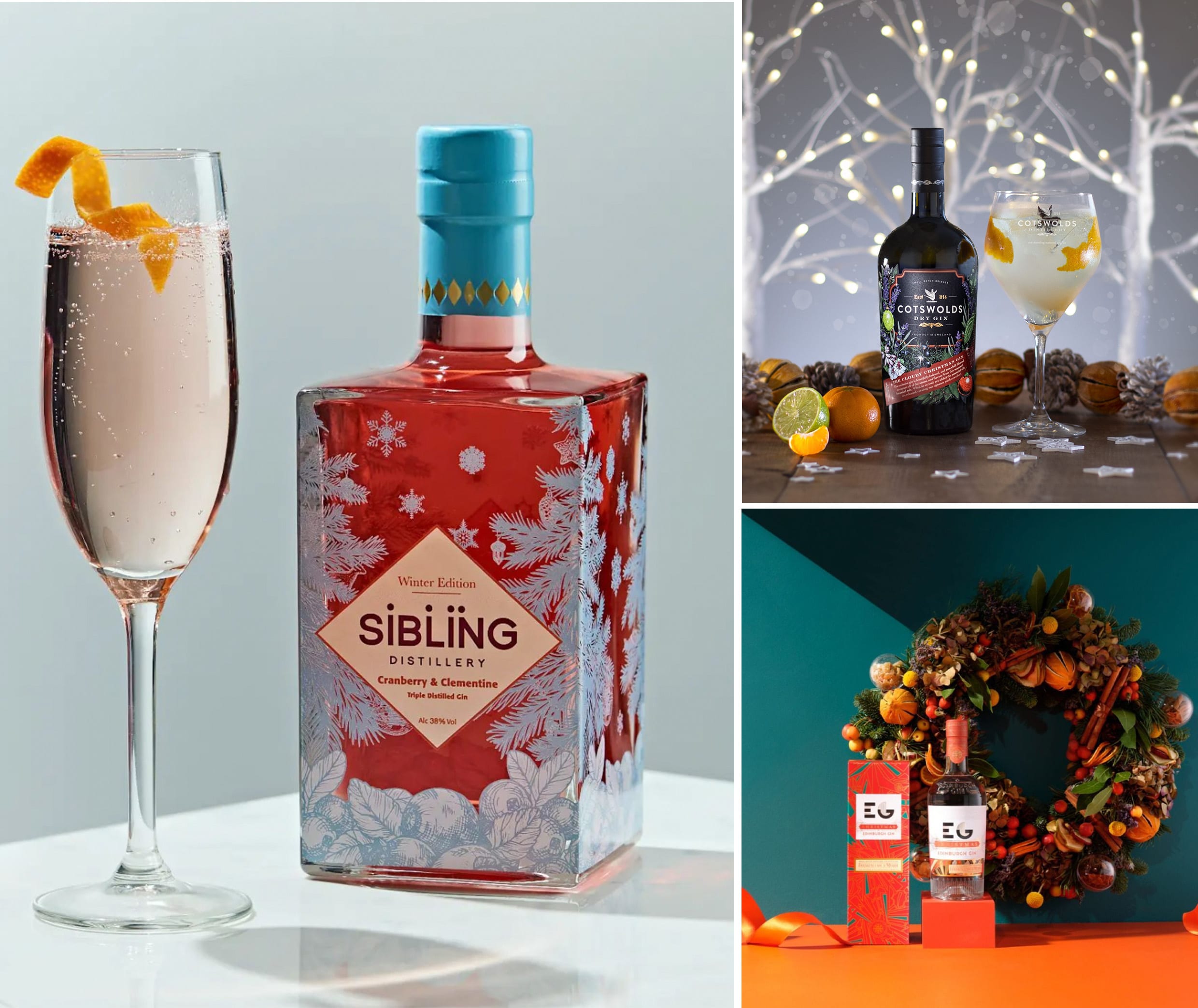 Edinburgh Gin's Christmas edition is a world of festive celebrations. Nutmeg and ginger root form the warm spiced base, framed by juniper and perfumed frankincense and myrrh. 
If that sounds like something you might like - LinGin's Mulled edition also leans into lemon peel, ginger, all spice and clove while That Boutique-y Gin Company's Yultide Gin even crams in some gold flakes for good measure. Expect to be delighted by the frankincense, myrrh and gingerbread hit while your tongue tries to swipe the flakes off your teeth. 
Monthly Gin Drops
Subscriptions are a lovely idea for the gin lover in your life. Most that offer full sized bottles will do both three-month and six-month stints too, giving you plenty of options to suit your budget.
The big boys are Craft Gin Club. The boxes feature a lot of goodies and the magazine that's included gives a good look into the gin of the month and the people behind it. It's had some great gins included in the pack over the past year, ranging from small names to internationals and between the added items and the bottle itself, you can trust it'll deliver a bang for your buck.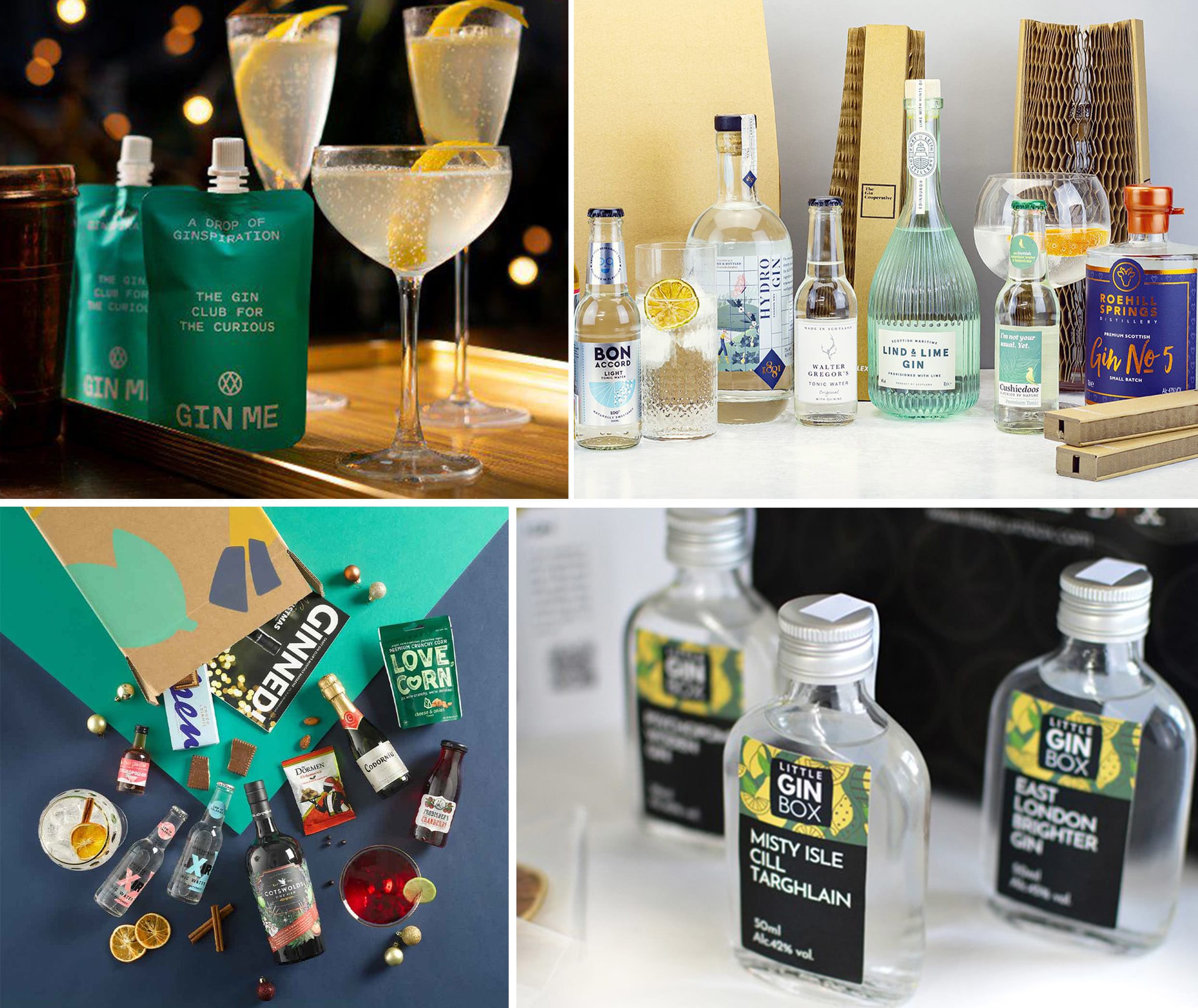 Another subscription is Gin Me, from the makers of Whisky Me. Only just making the crossover into the world of Gin in the last two months (presumably looking to expand since their appearance on Dragon's Den) there's no form guide to go on yet. However, given those involved standards are likely to be high.  
Little Gin Box also goes down the lower monthly cost and sends 100ml samples. Their format is two mini 5cl bottles (instead of Gin Me's single but bigger pouch) and regardless of which you prefer, £8 to £10 is great value considering the price of a G&T in a bar nowadays.
For those interested in a more personal touch and where the emphasis is firmly placed on Scottish Gin - both Gin Cooperative and Craft56 promote some of the best the country has to offer through their monthly gin drops. The monthly online video tastings and Q&A sessions with the distillers are a great way of seeing the people behind it and learning more, and both have a very personal feel about them.
Tried and trusted Gins
The bottom line is that even if all of the above, the themes and way of segmenting the category, is too much and you're still none the closer to making a decision - you can always resort to gin brands that you love.
Great gin is a gift that keeps giving and brands such as Lind & Lime or Stranger & Sons that match upfront citrus with lingering spice are familiar names for a reason – they are delicious. 
Pretty much everything from York Gin would be gratefully received by anyone who likes classic flavour profiles (my nod remains the Old Tom), same with Bullard's (hat tip to the Coastal) or Citadelle Gin (the flagship dry in particular). Each has its quirks, but the quality is there across their ranges. 
All five distilleries make tried and trusted gifts for gin lovers and you can add them under the tree with confidence. 
Cheers to you all!