Let's kick off with the most famous and most popular garnish, olives.
My issue with olives and indeed, olive brine from a jar, is that they're rarely as good as the fresh ones and when you change brands, the brine changes completely too. I'm quite specific in my choice of Gin, Vermouth and the detail involved in the process of making a Martini and for me, that variability is a frustrating extra component to deal with.
Conversely, in recent years I've watched on as bars have started to make their own brine solutions, from the complex (think Lactic and Malic acid mixed with saltwater) to the quick and gritty (blitzing olives with vinegar and straining). 
With this desire to move away from store bought and feeling inspired towards a DIY approach, I had a go and was amazed by what's possible in terms of personalisation and as a result, how much better you can make the cocktail. 
What I hadn't factored in is that by making the right brine, the actual olives can provide all the vermouth you need for a Dry Martini. A big added bonus for me as committing fridge space for an entire bottle is currently unrealistic.
How to brine your own Martini Olives. 
The simple version –
Start with the jar. No point measuring anything out unless you have the end vessel in mind. A big jam jar will take two cups of olives. Find the plumpest, freshest olives you can, give them a quick rinse and de-stone them. Put the olives in the glass jar and press the lot down. The aim is to release a little of their natural juice, not squash them. 
Next mix a combination of two cups of water, two tablespoons of white wine vinegar and two tablespoons of salt, and pour the mixture over the olives. It needs to cover the olives but leave some airspace at the top of the jar.
Seal and shake it vigorously. Yes it'll batter the olives a little but that just releases a little more olive juice into the mix, which is good! Refrigerate and remember that the longer the mixture is allowed to sit, the stronger the olive brine becomes. The olives will keep for up to 3 months in the fridge.
How to personalise it into something magical –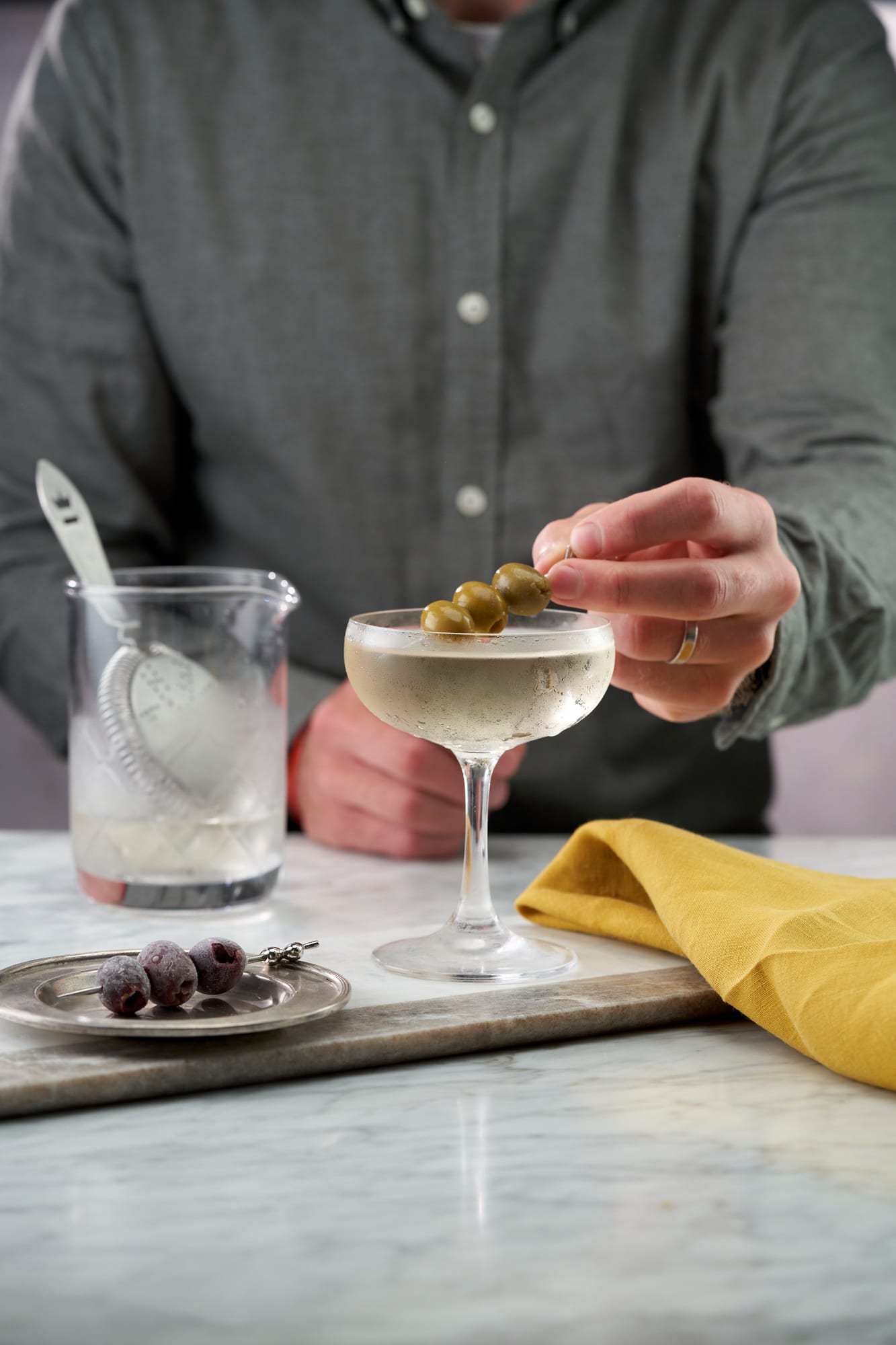 Same as above, get two cups of plump and juicy olives and de-stone them. Put the olives in a glass jar and gently press it down. Add of two cups of water, but add two tablespoons of Dry Vermouth, ½ tablespoon of vinegar and two tablespoons of sea salt. Seal and shake.
Now be brave and go one step further. Add a teaspoon of coriander seed, a teaspoon of olive oil, a small peel of unwaxed lemon and a sprig of thyme. Shake it again and refrigerate. 
Wait at least two weeks and remove the peel, the floating seeds and the sprig at that point so that it doesn't overdo it. 
Top tips: The point of this is to have great cocktail olives – not a botanical tincture. Vermouth and vinegar can be infused with additional flavour quite easily, so go easy on the amount you use upfront. Thyme is a good one as it augments the olive rather than gives discernible flavour of its own. 
Unprocessed salt is always better for this, so opt for Rock Salt or Sea Salt. 
You don't have to de-stone the olives, that's personal preference, but if you don't, score the olives to allow easier interaction and make a note to wait a little longer for the salt and solution to seep in.
Gin Martinis and Bianco Negronis will never be the same again!
How to make your own cocktail onions for Gibson Martinis
For the un-initiated, cocktail onions are pearl onions (AKA Allium cepa, baby onion or button onion). Critically, pearl onions are naturally sweet and when skewered into a Martini, can make for a truly delicious experience.
Typically, cocktail onions are just brined but you can also find seasoned versions. You'll often see that sugar is added to the brine to augment the natural sweetness of the onions too. 
How to brine your own cocktail onions:
To make them at home, start with around 500g of pearls. Blanch them in boiling water, trim off the roots, stems and take the layer skin off along with it. If you can't find any, you can use already pickled onions empty the juice and re-brine into something better but it defeats the purpose to say the least…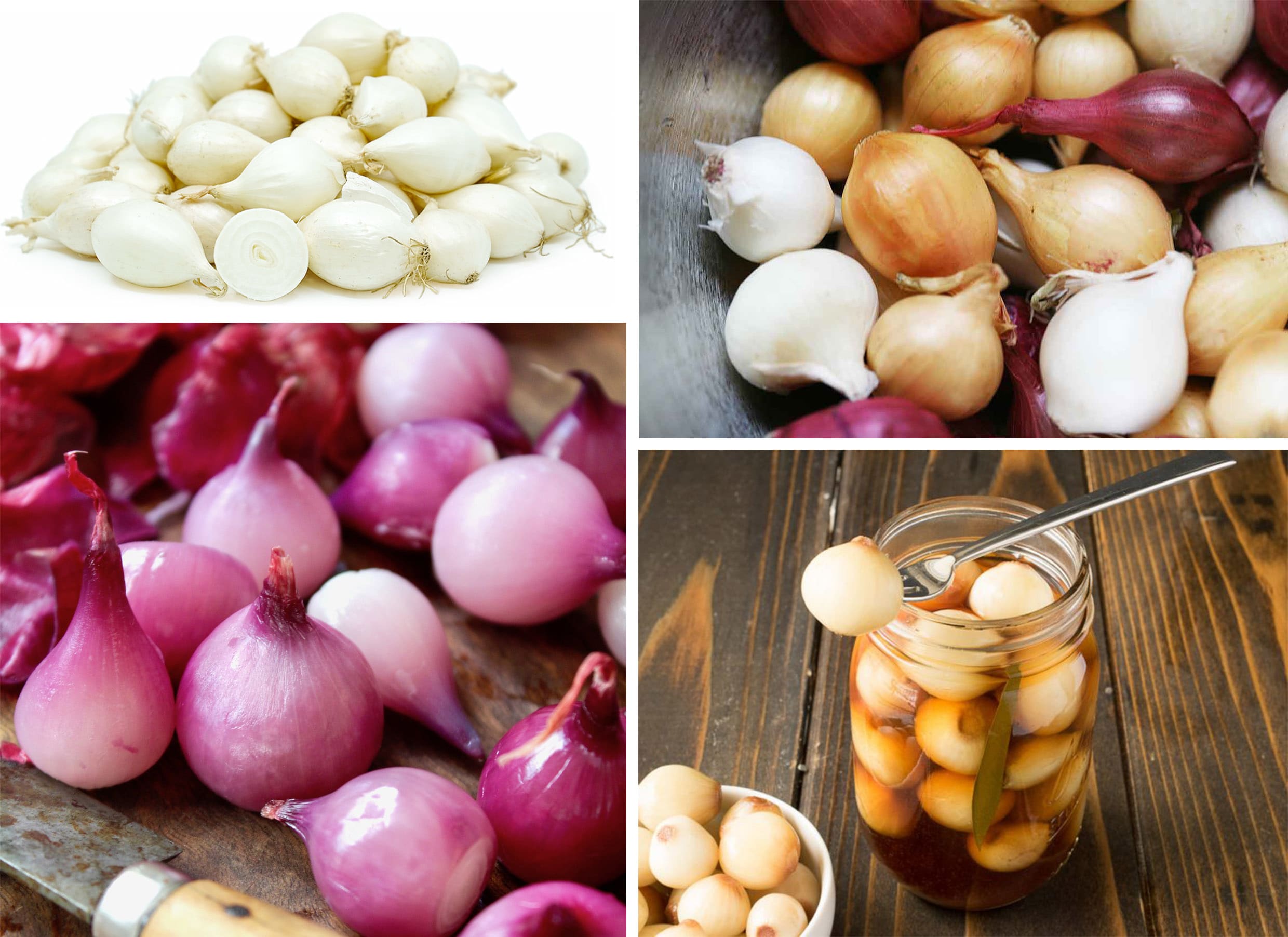 Once cooled, pack the pearl onions, a teaspoon of coriander seed, a teaspoon of black peppercorns and a generous sprig of rosemary into a glass jar.
Side note - You can also add in the likes of sage, or lemon myrtle or swap out black pepper for Sichuan pepper (pine and citrus) or Timut (grapefruit citrus) or even Pepperberry (earthy and herbal)– it's up to you and each will add a different layer into the mix. Personally, I'd avoid adding juniper into the brine as Gibson Martinis are at their best with a classic London Dry, no need for more in the mix.
Bring 1 cup of white wine vinegar, 2 cups of dry vermouth, 2 tablespoons of sugar, and 1 tablespoon of salt to a boil. 
Pour the liquid in making sure all the pearls are covered and let cool completely. Seal and let is refrigerate for at least 1 week before using.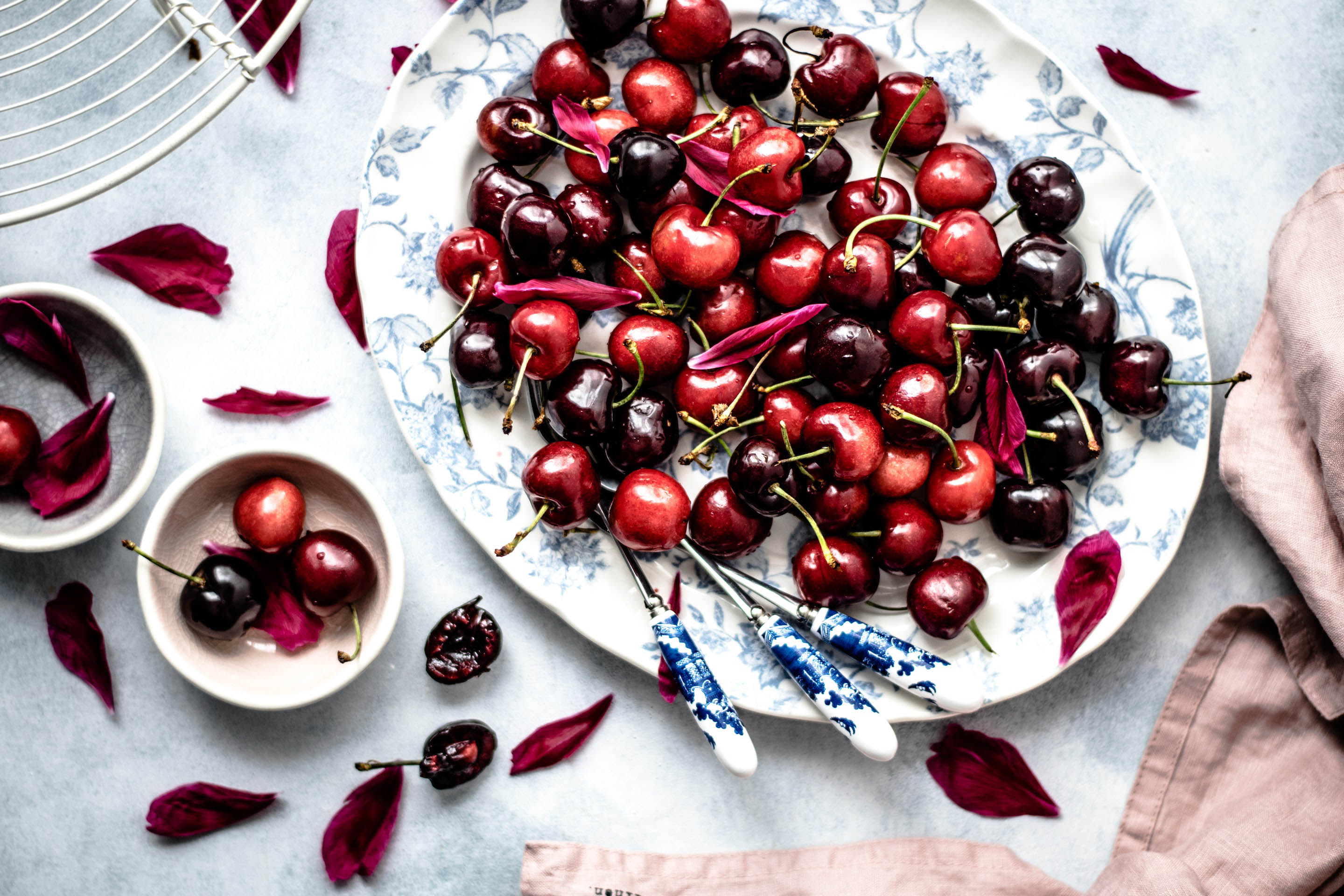 Make your own Brandied Cherries for Manhattans
Forget the fluorescent red glacées – they are not the real deal. Even the store-bought jars of cocktail Maraschinos do not compare to what follows. 
Making Brandied Cherries is easy, and they are so delicious you'll be whipping up Manhattan's, Aviation's, Corpse Reviver's and even Cherry Negroni's just as an excuse to use them!
The ideal start point is using actual marasca cherries (just as they do to create Luxardo Maraschino Liqueur), but they are seldom available in the UK. Benton's, Coeur de pigeon, Black Pearls or Bing cherries are all tasty treats that combine all the flavour and enough bulk, but the variety really doesn't matter too much – just use fresh, in season cherries and you'll be fine.
The simple version – 
Wash half a punnet, de-stone each and place them in a jar. Add a cup of granulated sugar and top with brandy until the jar is full. Seal and shake, then leave them for a fortnight in the fridge, agitating the jar every so often.
You'll find this makes for a nice garnish, but you can make it miles better by doing a few simple things…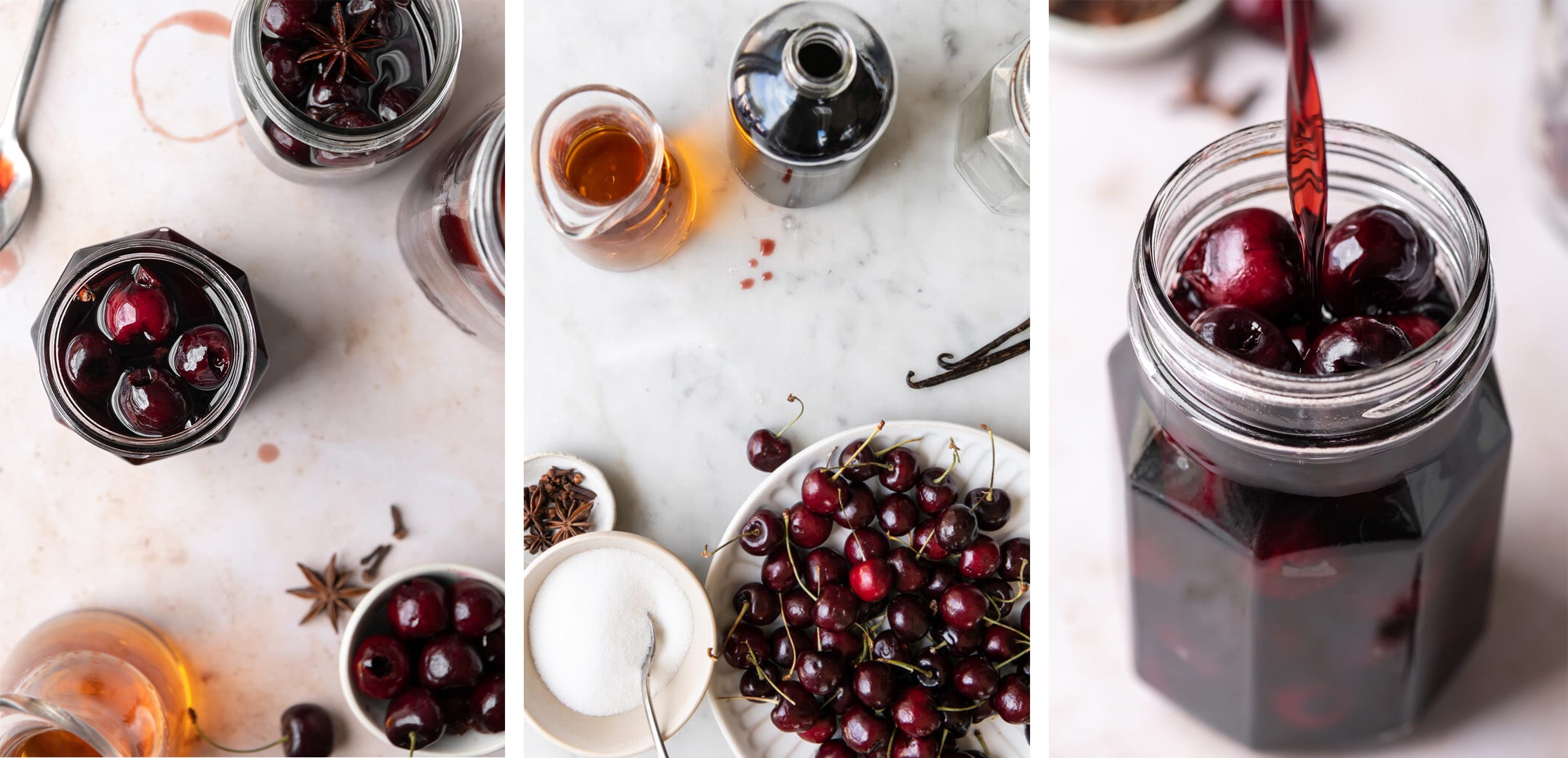 How to personalise it – 
Instead of adding granulated sugar, make a customised sugar syrup. Take 1 cup of demerara sugar, add it to a pan with 2 cups of water over medium heat. 
Add some orange peel, a cinnamon stick, a teaspoon of vanilla flavouring and a star anise and let it come to a boil. Once the sugar has fully dissolved, keep reducing the syrup for a little bit as this will help infuse in the spice and concentrate the mix. Kill the heat and add the cherries to the pot to soften slightly. 
As you let it cool you'll notice that the cherries will have relaxed a little. Remove the star anise, cinnamon and orange peel and place the cherries and the syrup in a jar. Add a cup of Brandy into the mix. Make sure it covers the fruit, seal and shake it up to mingle all of the liquid together.
If you have loads of head room in the vessel don't worry – keep going.
If you like It boozy, top the jar up with more brandy, if you like it sweet, add some more sugar (be it in the form of more syrup or simply by adding undissolved granulated sugar). Alternatively, top it with some Luxardo Maraschino Liqueur if you have some and turbo charge the fruity tones.
Take my word for it that the added ingredients add a subtle spice to the mix that is barely noticeable in its own right but manage to bring warmth and length on the finish. The cherries soak all of this and irrespective of whether you are using the cherries or siphoning off some juice – it'll call your name each time you see the jar. 
Softening the fruit seems to make them more receptive to the infusion and in turn they give more to the liquid, meaning you'll want to scoff the fruit, drink the liquid and lick the spoon!