It's clear everyone found new obsessions/distractions to get them through lockdown, some more intriguing than others. Somehow, I swerved the sourdough craze, dabbled briefly in ancestry (that vague 'Viking descendant' transpired into a Danish great-great-grandfather, wahey), but didn't anticipate falling wholeheartedly into the fermented drinks world.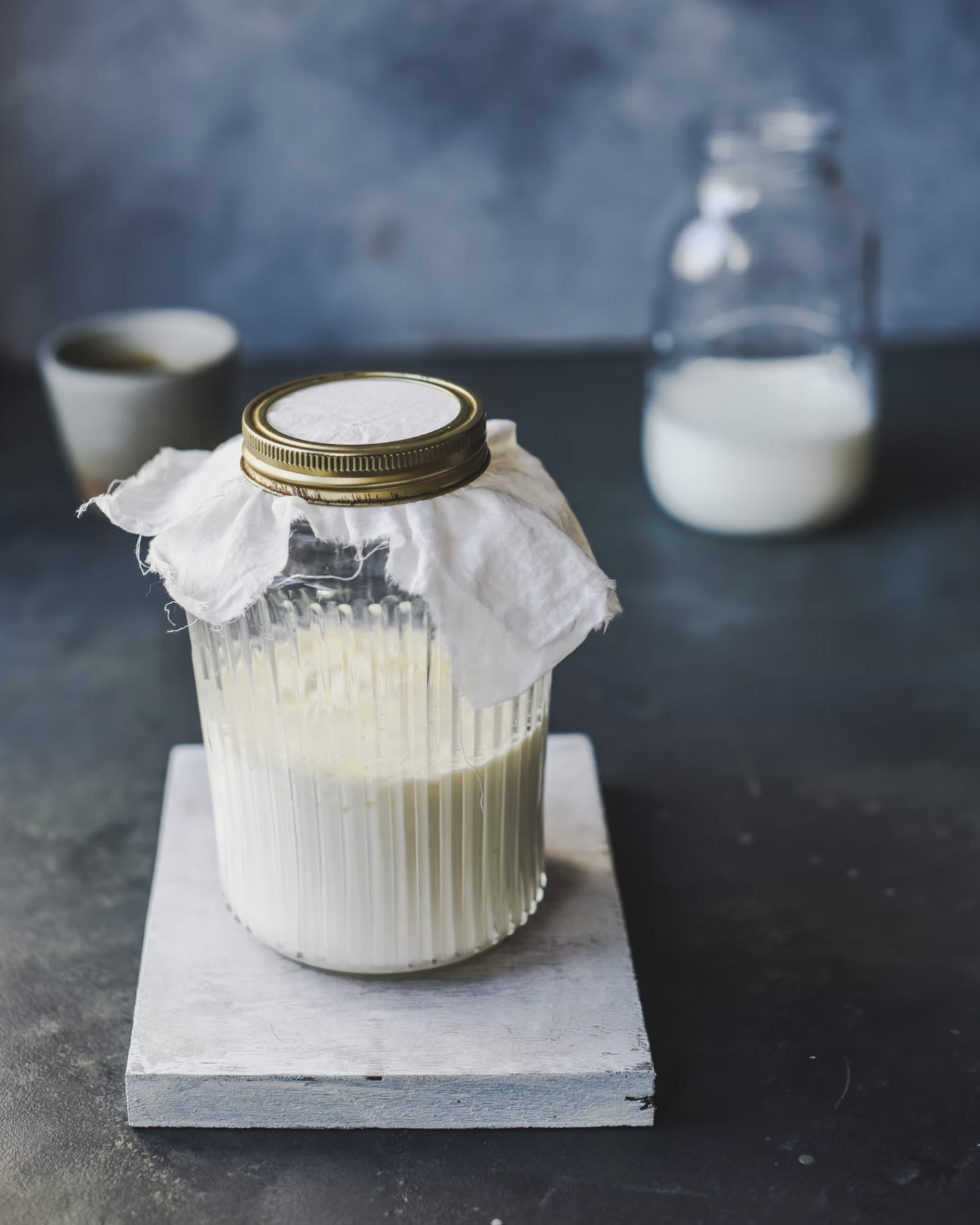 My problem up till now had largely revolved around the terminology. Fermented drinks really do need a bit of marketing rebranding. Think too long about 'fermentation' in terms of bacteria and, look… just don't. Similarly, 'gut health', gets a mental 'hold-up-hands-in-horror-that's-too-much-information' recoil. If it's your first foray into the fermented world, one word of advice: start tentatively and analyse the daily effects on your digestion before gradually increasing your intake. Listen to your own body and your taste buds rather than follow the fermentation flock.
That said, there's no escaping the anecdotal and medical evidence that fermented drinks are good for your body in all manner of ways: improving your digestion, your mood, your sleep… and, most importantly, there are products on the market that actually taste delicious. Some, dare I say it, are satisfyingly, addictively complex.
Kefir (water and milk varieties)
Most people associate kefir with a fermented milk drink, but my route to conversion came via a non-dairy water kefir, specifically Nordic Wellness Drinks, a Surrey-Hills-based producer that abruptly appeared with a stall at my local farmers market around March 2021. My favourite of their mixed case (Ginger, Elderflower, Sea Buckthorn, Aronia Berry, Wild Nordic Berries) changes as often as the weather, but the blend of natural sweetness and acidity combined with their dedication to local/organic sourcing is a winner. 
Unlike kombucha, it's caffeine-free, so it's a good place to start if you don't want to feel too buzzed.
I've since had another go at the traditional dairy kefir (there was a prior experience years ago in Catalonia that I may have unfairly attributed to a food-poisoning incident). Ki Kefir, based in East Sussex, has been making small batches of kefir using organic milk from grass-fed cows since January 2019. I love the drink's light frothy texture and the cosy way it enrobes the tongue without a thick or dense mouthfeel. There's a subtle vanilla-sour aroma and a tangy flavour that lingers but doesn't overwhelm. They deliver (handy-sized) 200ml or 750ml glass bottles.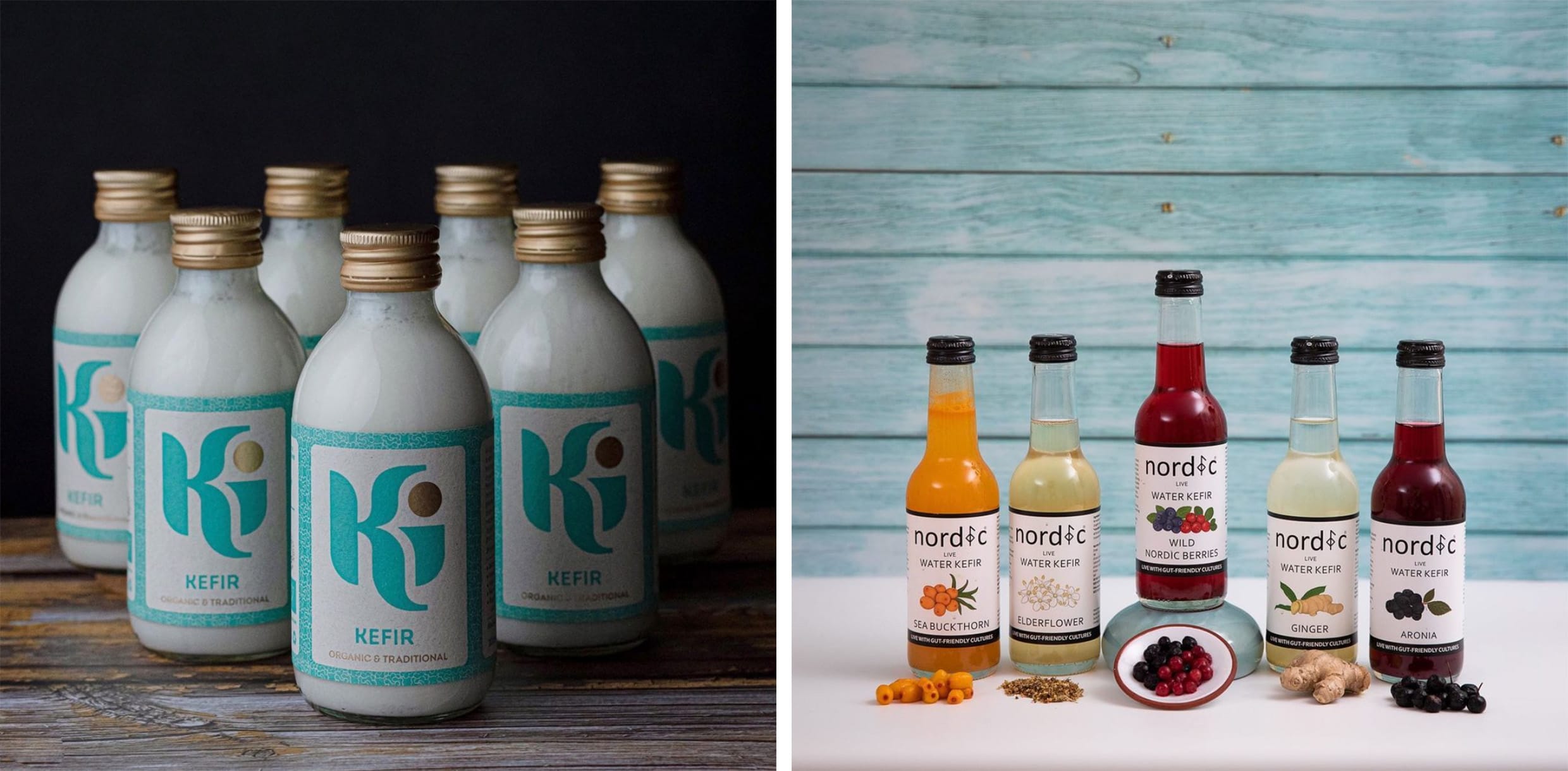 Kombucha
Kombucha addicts are everywhere, and kombucha brands are increasing like an out-of-control SCOBY. (SCOBY stands for Symbiotic Culture of Bacteria and Yeast. Both kefirs and kombuchas use SCOBYs in their fermentation process, but while kefirs are made from milk or water, kombuchas use green and/or black tea.)
I've never judged so many different kombucha flavours as at this year's Guild of Fine Food's Great Taste Awards, either (blind tasting, so my recommendations here are not necessarily Great Taste's picks). Many are completely incredible, refreshing and more-ish so if you're new to kombucha, or even if you're not, do try the following:
Originating in Hackney Wick in 2015 but now concocted in a sophisticated Belgium kombucha brewery, JARR comes in four 240ml glass-bottled flavours: Original, Raspberry, Passion Fruit and Ginger. All are brewed with both green and oolong teas. I'd be happy enough with the Original, it's an outstanding example of a well-balanced, sweet-sour, refreshing kombucha, but the raspberry is ridiculously more-ish. The Passion Fruit has a mild aroma but the flavour is uncannily like sucking on real passion fruit seeds without the usual cloying sweetness associated with passion fruit drinks. The Ginger is deceptively mild at the start but the heat layers up and lingers in a very satisfying manner. 
This is kombucha at a very impressive level.
The kombucha from this Suffolk microbrewery came highly recommended from an artisan cheese-seller who frequently uses it in pairings (LA stands for founder Louise Avery, not Los Angeles, by the way!). It's available in both craft-beer-resemblant 330ml long-necks as well as 300ml clear bottles. I found their Citrus Hops kombucha absolutely compelling, with delicate apple-lime aromas and a lemongrassy hoppy tart flavour that was well-balanced and multi-layered. I would choose it over any beer any day. The Tropical Ginger with Yuzu is an intriguing combination, relatively light on the ginger, and might not impress everyone, with its slightly sherbet-like zing, but the mouthfeel is definitely fresh rather than ginger-fiery.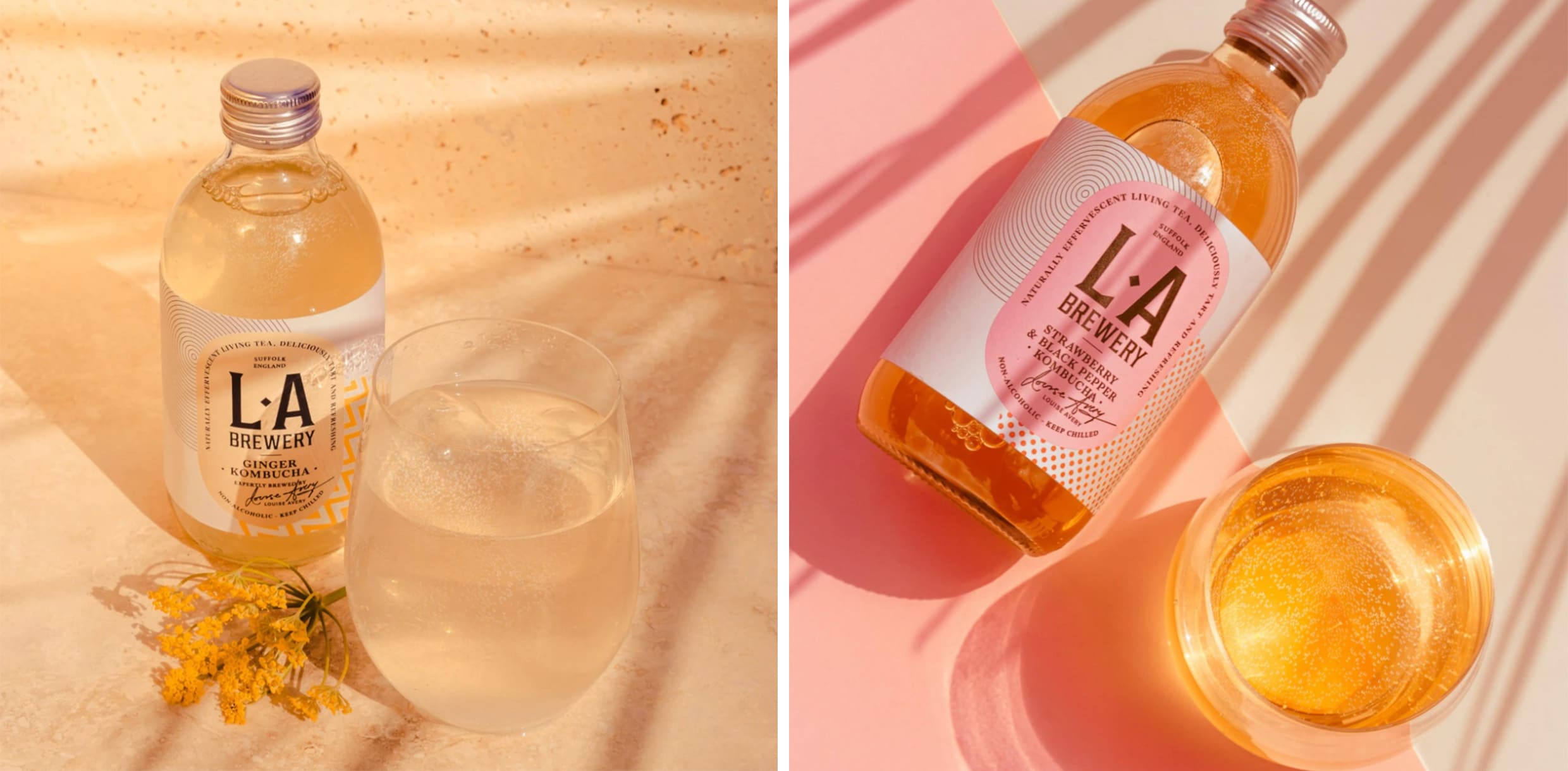 Big news in Australia and NZ, Remedy launched their kombuchas in the UK in 2018. Of their range I've only tried the Mango Passion kombucha, which comes in a 330ml amber glass bottle, looking like an elegant beer and it's incredible. The aromatic notes of mango upfront are compelling and it has a lively fizz and a pleasing little backnote of passionfruit that bursts in on the palate with just a gentle hint of sourness leading to a dry finish. 
I'm very keen to try some of the other flavours (such as Blood Orange or Cherry Plum or Apple Crisp). The 'Newbie Taster' mixed case of 12 x 250ml could be the way to go…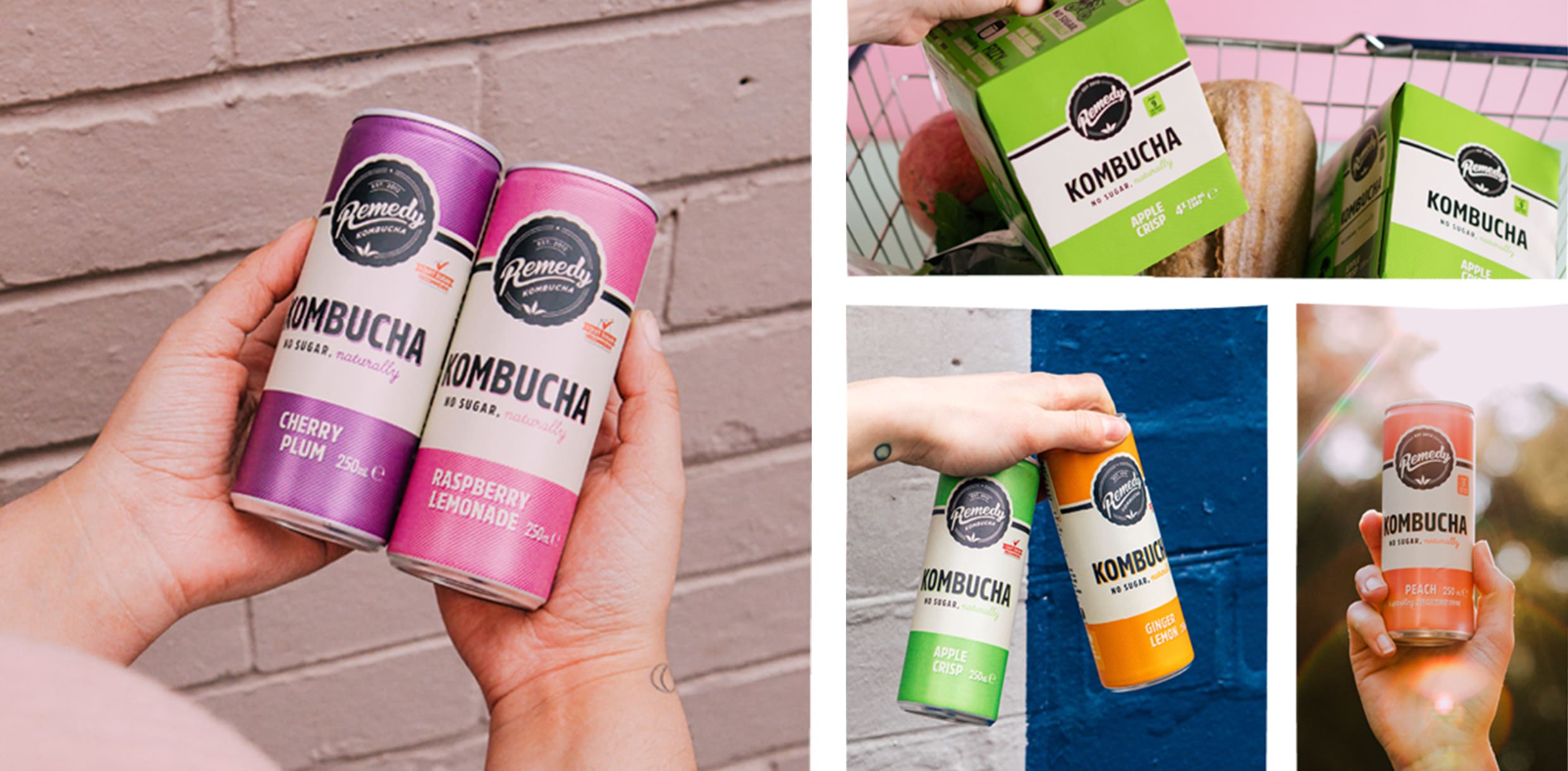 Okay, are you ready for Jun-Kombucha?! This is like a subset (or 'a rare cousin' as Buckinghamshire-based Nunc calls it) of kombucha where their green tea is fermented with their local raw honey instead of cane sugar. 
I've tried their full range (330ml ring-pull cans of Rose Blush, Mango Buzz, Juni-Purr and Hops Monster) and the general aroma is ever so slightly different to other kombuchas; possibly the honey mellowness coming into play. I like the white-peppercorn buzz and gingery heat of the Mango interplaying with the kombucha sourness. The Juni-Purr is on the dry-herbal and spicy side, with hints of cardamom and fennel along with the juniper and it seems unfathomable that it's actually non-alcoholic. Rose is very delicate and floral, with a vinegar-fresh finish. But it was Hops Monster where I said 'whoa' out loud: lovely apple and lime aroma and a startling zingy hoppy flavour with a tinge of cardamom. 
Clever 'I can't believe this is not beer' stuff.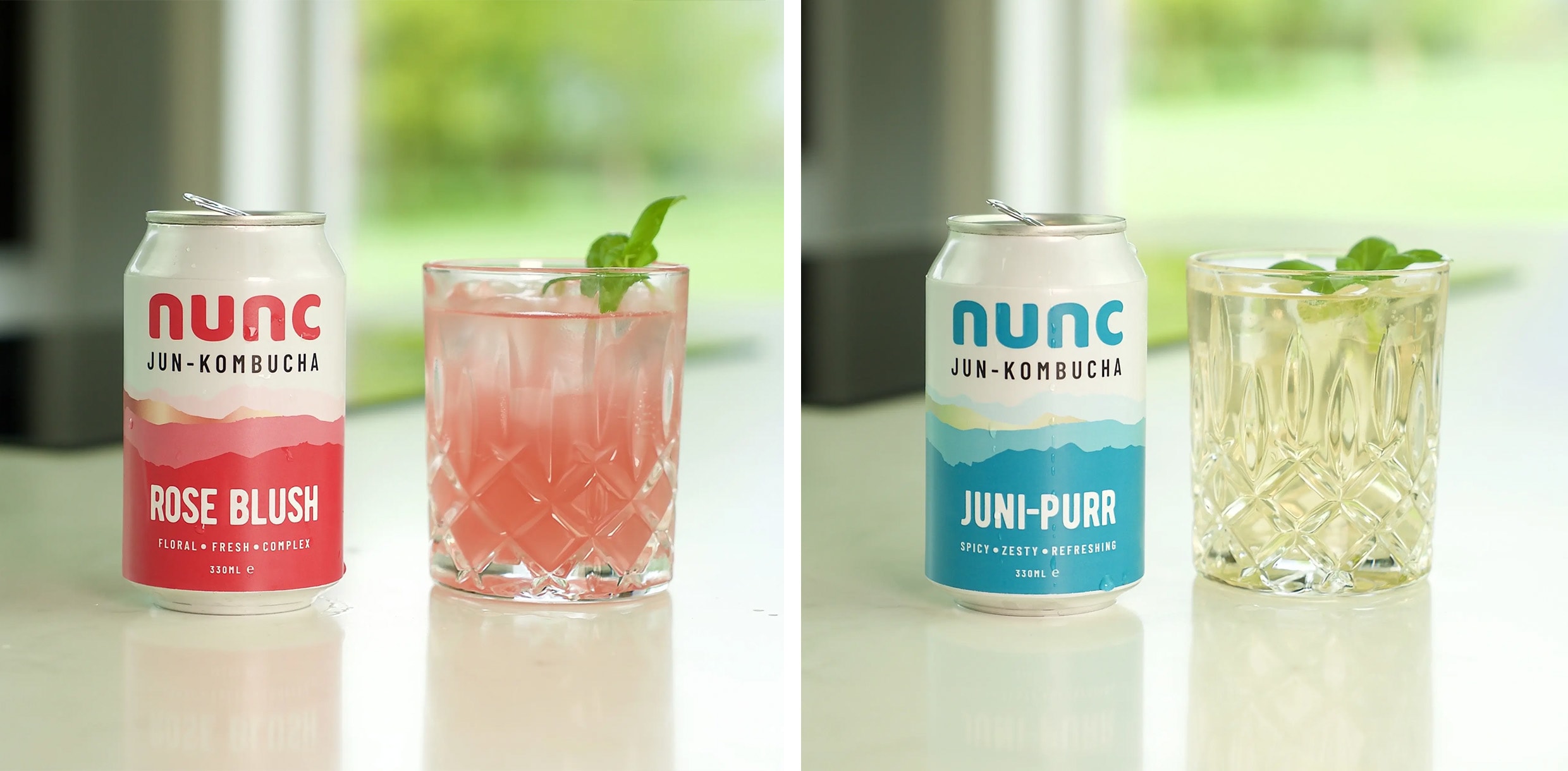 I've tried seven of the Portugal-based GUTsy Captain kombucha range, made from green tea fermented with organic raw cane sugar, live bacteria and yeast (Original, Coconut, Pineapple & Peach, Raspberry, Pomegranate, Passion Fruit, and Watermelon & Mint). 
There were a couple of flavours in the 400ml bottles that I thought had a stevia-like sugary taste and were a little dry and tannic in the mouth, but I was a big fan of the Raspberry, the Watermelon & Mint, and the Pineapple & Peach. All three were enticingly aromatic, initially juicy with well-balanced, delicate flavours that were true to the tin's description, peeling away to a dry green-tea finish with a lingering sweetness.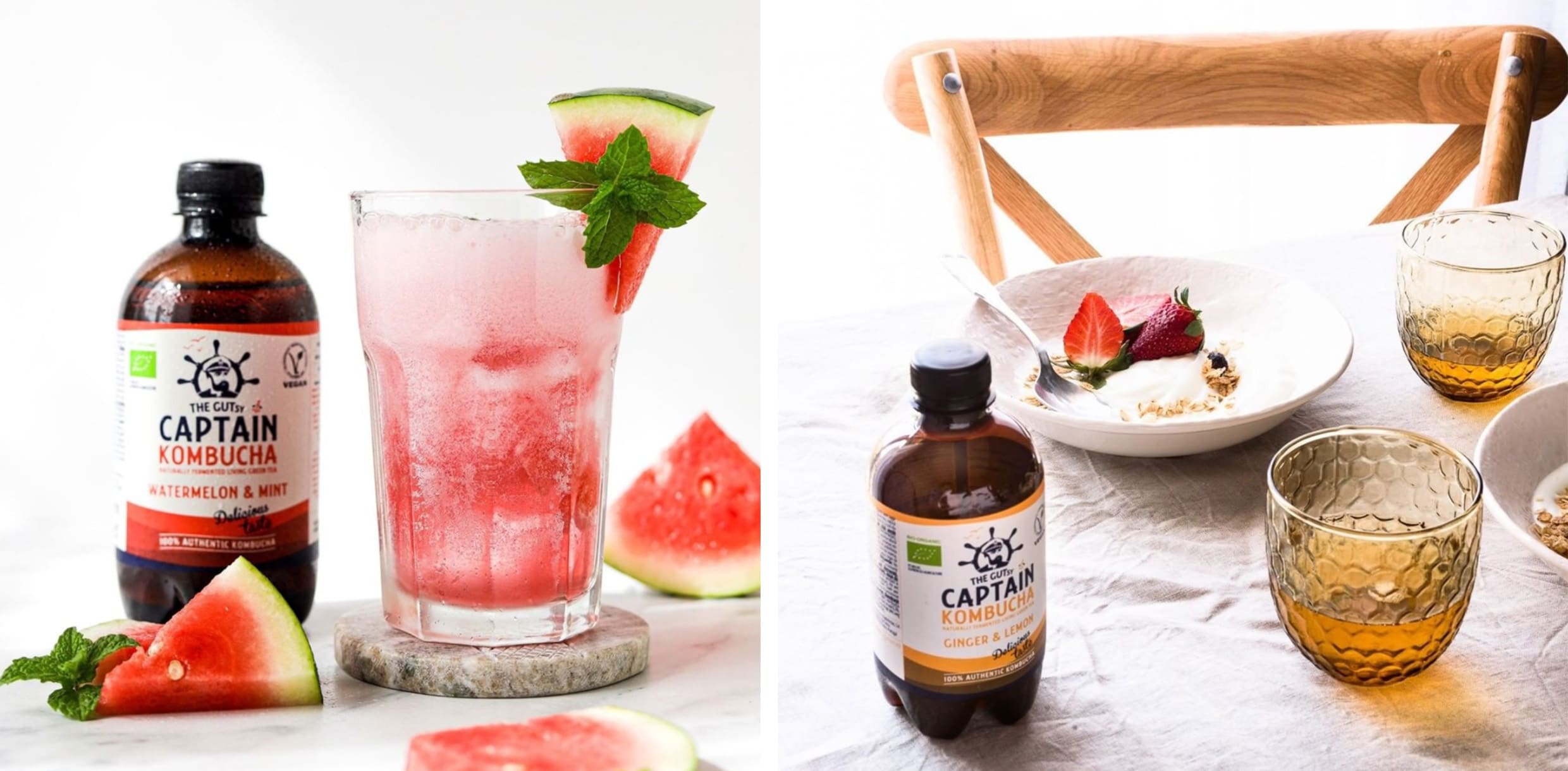 This is a kombucha for fans of jasmine and green teas in particular, as these flavours are forefront on the nose and palate. It's made from rare white silver-needle teas (Snow Bud, Jasmine Ying Zhen) and green teas (Jasmine Huang Shan Ya, Sencha). There's a slightly vinegary but dry finish and it comes in a handy 230ml ring-pull can; perfect for picnics.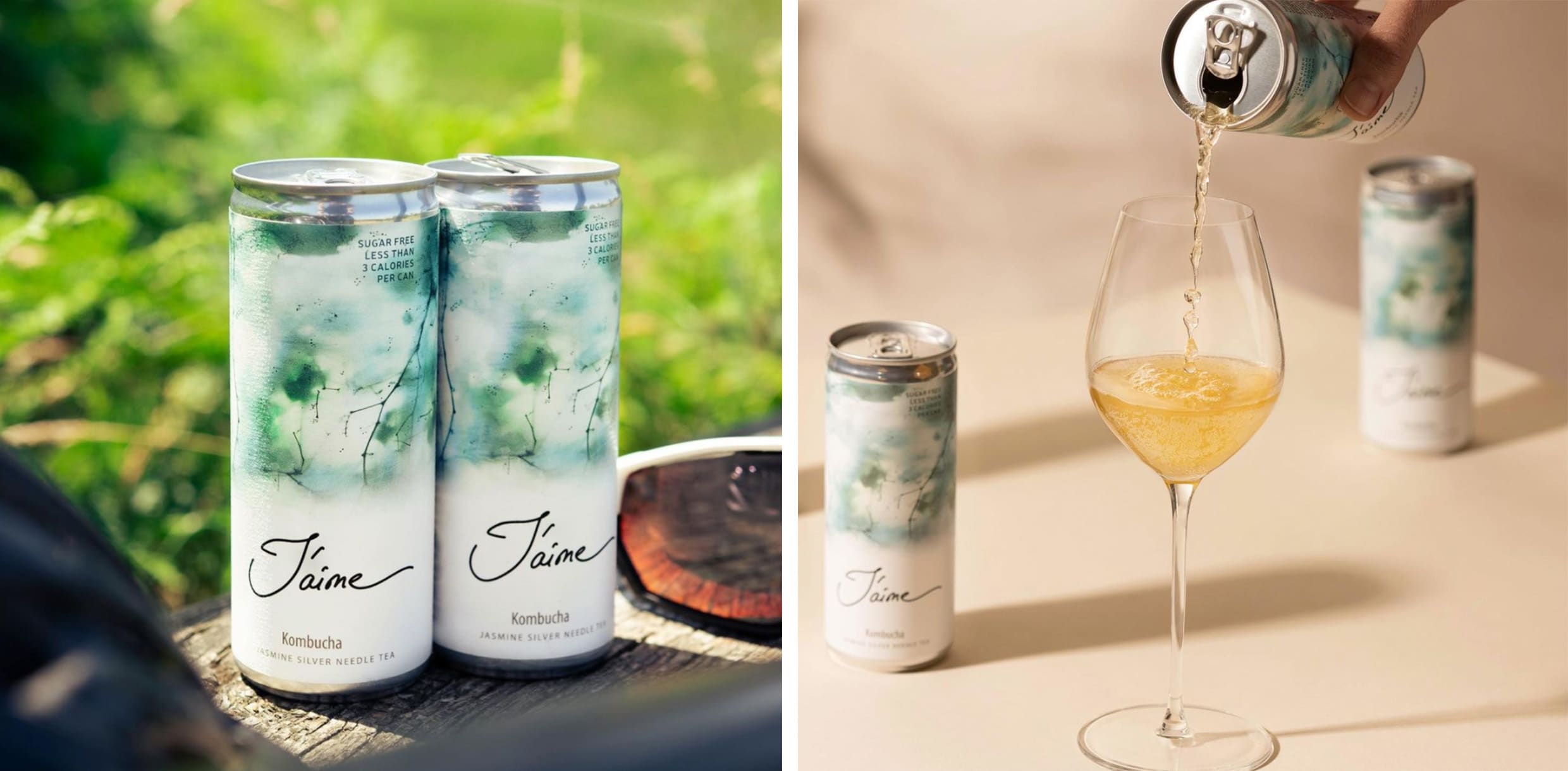 Mead
I first encountered mead in childhood, via Hans Christian Andersen's fairy tale 'Little Claus and Big Claus'. In the story it was a drink offered to an already-dead grandmother before an innkeeper hit her on the nose and was then mistakenly accused of killing her. Suffice to say, it's taken me a while to come back to it without associations of violent death. To taste its honeyed sparkling sweetness (it's essentially fermented honey, water and yeast) was a revelation.
Bemuse launched in June 2021 at the Low2NoBev trade show, and I was keen to taste what a product would be like that was forced to develop 100% online over lockdown. They have four flavours in 330ml ring-pull cans: Hops; Tarragon, Basil and Hops; Raspberry; and Ginger and Cardamom. All are brewed with different kinds of honey. The Hops, which is dry and crisp and compellingly fizzy, is brewed with wildflower honey. The sweet honeyed heather aroma on the Tarragon, Basil & Hops is a little deceptive as the ensuing herbal hit of tarragon won't be for everyone, but it rounds out with a little more honey again, which is quite clever, with only a wisp of basil. The Ginger & Cardamom is a little too heavy on the cardamom for my personal taste and I'd like a bit more of the ginger heat and sweetness from the apple-blossom honey. The Raspberry, brewed with orange blossom honey, is wonderfully aromatic like a sweet floral perfume, juicy on the palate but with a tart, dry finish, making it very easy to drink.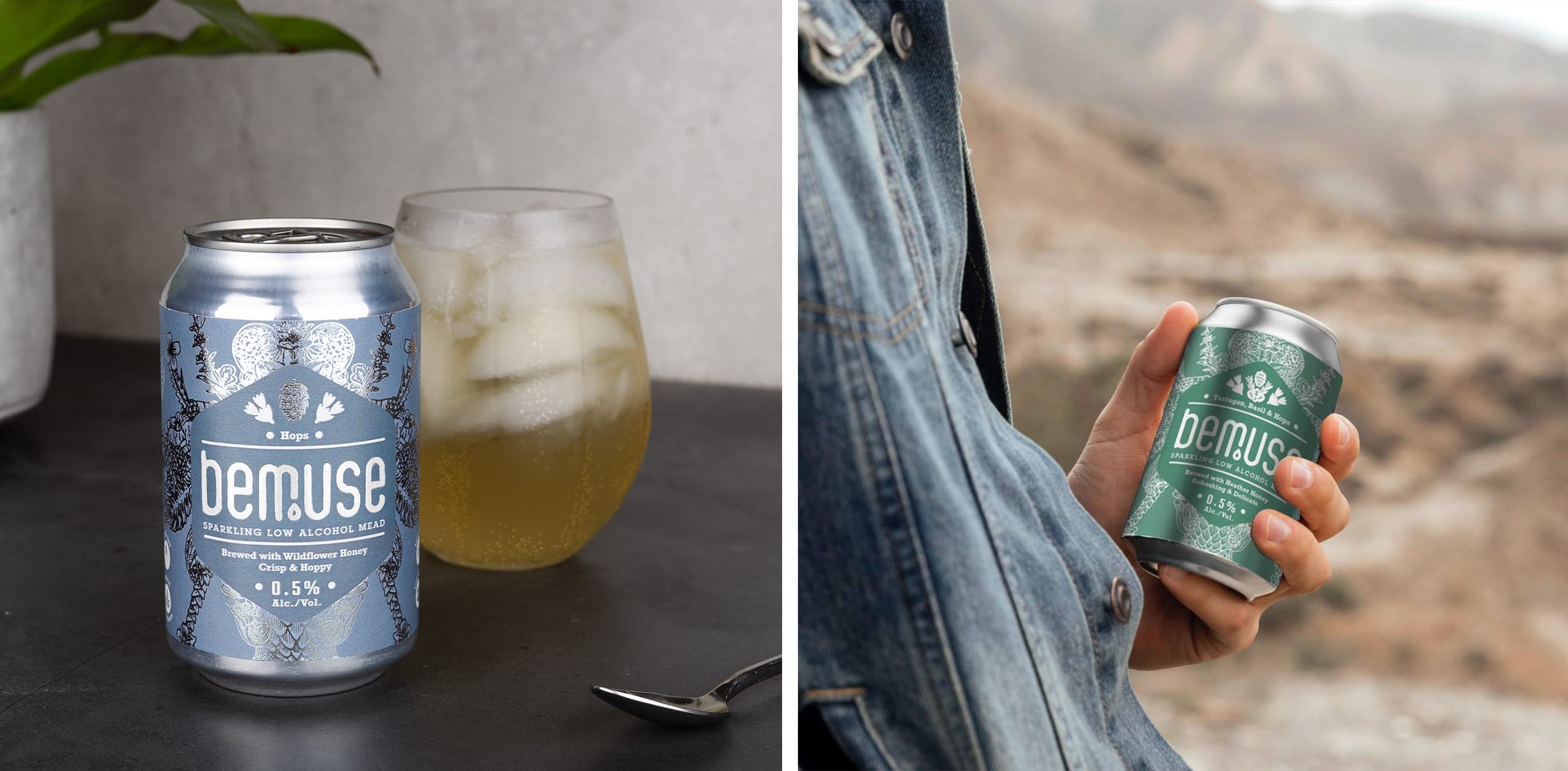 Fermented Sparkling Wine and Aperitifs
There's a whole other article that could be written about the 'NoLo' sector, but in terms of non-alcoholic sparkling wines that are fermented, there's something very exciting coming out of Copenhagen. No-one should be too surprised, given Denmark's obsession with natural wines and fermentation experimentation. 
A recent addition the shelves, Muri launched in the UK in July 2021 with two drinks: Passing Clouds and Nuala. Both use a low-alcohol yeast called Pichia kluyveri as well as water kefir grains, kvass (a drink made of fermented rye bread that I first tried in Riga, Latvia) and a kombucha SCOBY in a bit of master blending. 
Of the two, I've only been able to get my hands on Passing Clouds and it's a superb example of a very grown-up aperitif: white currants are fermented with the Pichia kluyveri then blended with quince kefir and jasmine tea before a touch of geranium and woodruff kvass are added to the finish. It pours thick and frothy with lovely fragrant pineapple and hops aromas with a zingy lime and citrus flavour in the mouth with a mellow hint of pears on the finish. It would be incredible with cheese.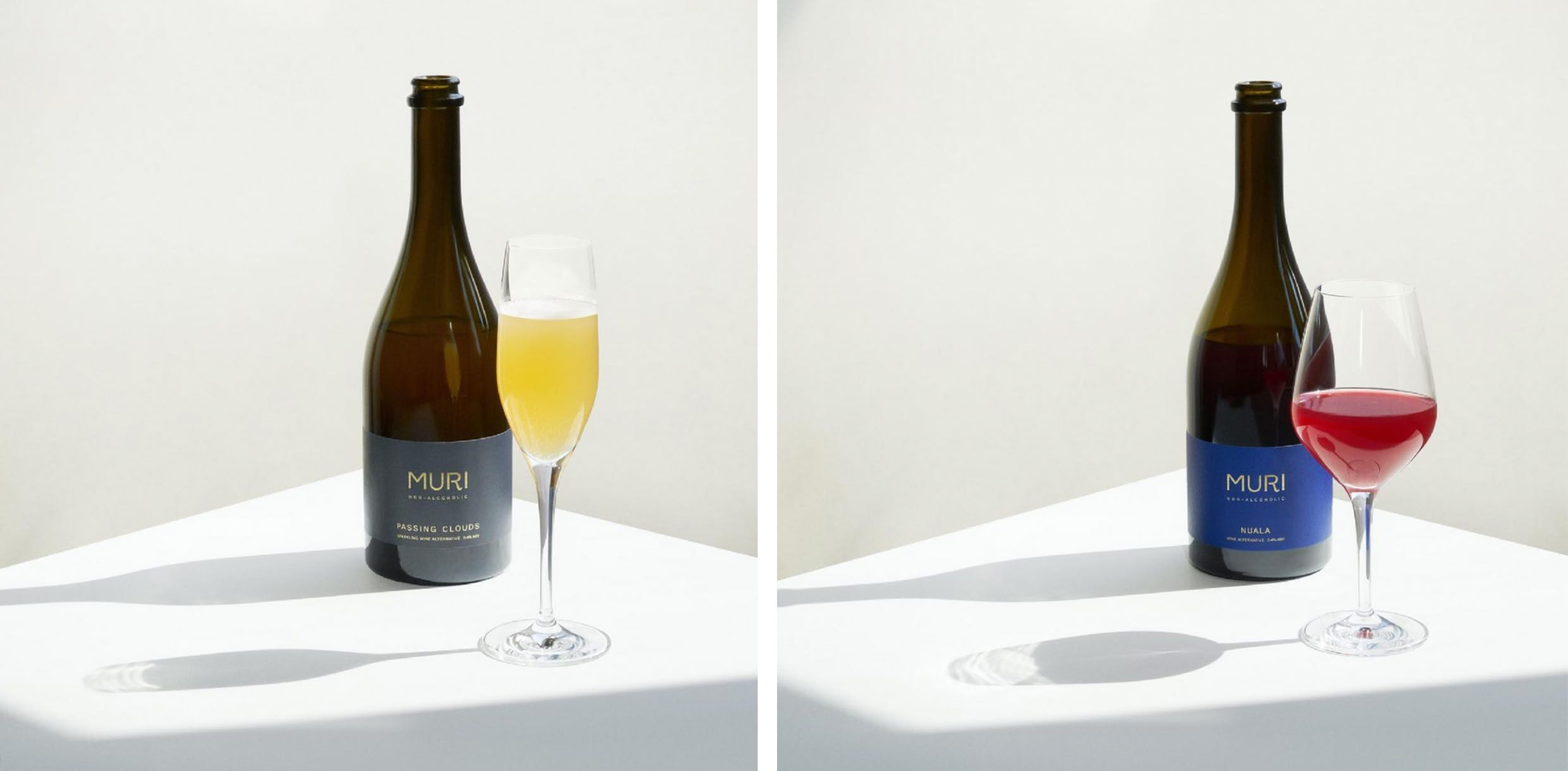 LA Brewery (mentioned above) also offers a 750ml English Rose kombucha sparkling wine that is a striking example of non-alcoholic fizz. It has a soft peach and rose aroma then is delicately floral on the palate, slightly zesty with a gentle hint of raspberry sweetness tailing off into an almost juicy vanilla hum. It's incredibly complex, made with a blend of Assam and White Monkey tea along with wild elderflower and organic white rose petals from Devon. It's like drinking Champagne in a fragrant summer rose garden but you feel every drop of it doing you good.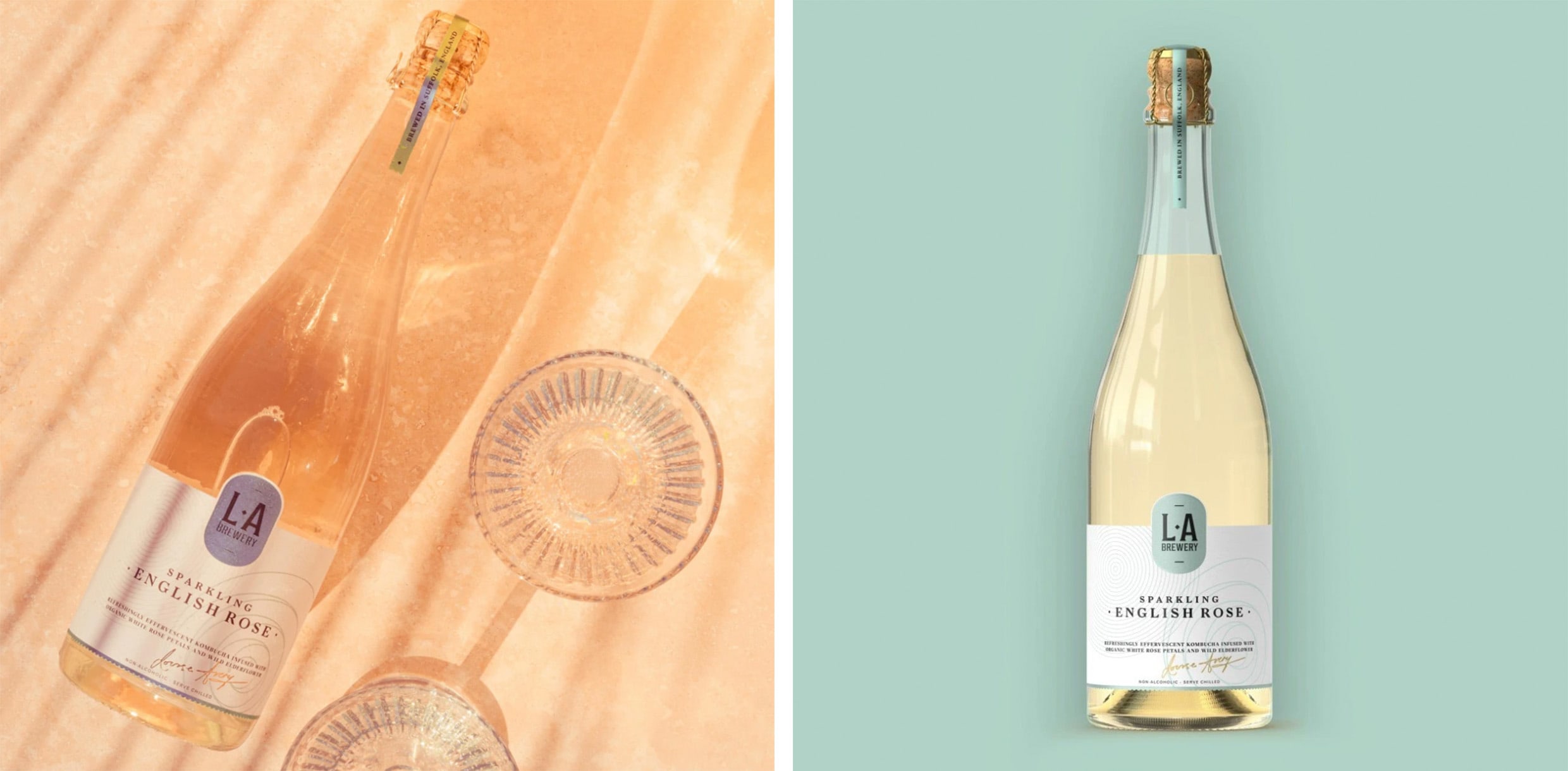 Consider this Cornwall's gift to the fermented aperitif (and digestif; they make one called Amber) world. The bright-red Ruby aperitif is made from Cornish spring water, tea leaves, hibiscus, pink peppercorns, lavender, orange zest, pink grapefruit zest, wormwood, apple cider vinegar and preservatives. 
The 700ml bottle certainly looks like something you'd see on the top spirits shelf. It has a bright, oceanic aroma and then a startling tartness on the palate that gives way gradually to compelling grapefruit zestiness, a subtle hum of lavender and a sour but dry finish that is intriguingly Campari-like. It could be too intense for some so I'd take their suggestion of mixing with tonic and garnishing with pink grapefruit over ice.